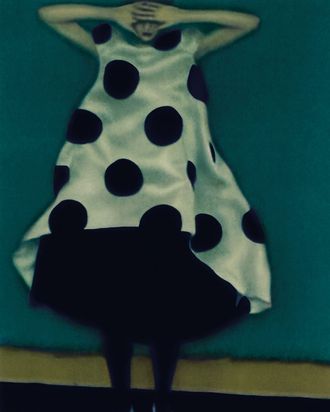 Sarah Moon.
Photo: Sarah Moon
As if Milan Fashion Week didn't have enough culture, Armani is staging a massive exhibition on one of the brand's favorite photographers, Sarah Moon. Giorgio Armani collaborated with Moon on their 2018 ad campaign and said they share "a mutual proclivity for simplicity that gets the strongest effect." Armani is hosting the retrospective at his gallery space in Milan, Silos, through January 6.
Moon, who curated the exhibit herself, is known for her dreamy, moody photographs. Her work is often out of focus and eerie, without ever diminishing the fashion. The Armani/Silos exhibit spans four decades of her career, beginning in the 1970s. It's a good season for her: She's also being honored with an exhibit at Milan's 10 Corso Como concept store.
"I chose to expose a mix of abstract fashion images and less known photographs," Moon said in a statement. "I thank Giorgio Armani for his invitation and the freedom he gave me in this exhibition. I have always appreciated his timeless couture. We both enjoy the challenge of doing more, with less, and of working with or without color." See some photos from the exhibit below.