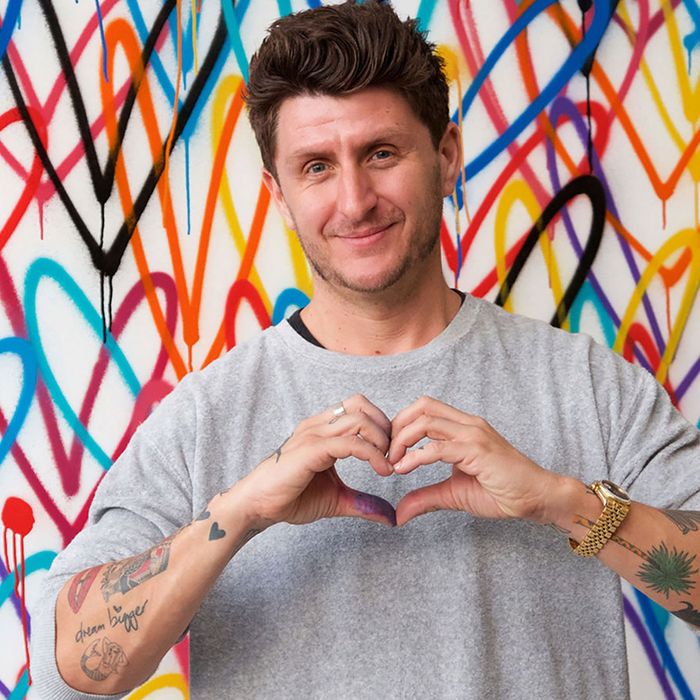 James Goldcrown in front of one of his Lovewall murals.
Photo: Courtesy of Elizabeth Arden
James Goldcrown became famous because of love. The artist happened to paint an incredibly Instagram-worthy mural called the #lovewall just as Instagram became popular. Now he creates creates similar murals all over the world, and has collaborated with everyone from Toms to L'Oréal. His newest project is with Elizabeth Arden, with his famous graffiti hearts now gracing the packages of the limited-edition Love Heals x Eight Hour Cream Collection. The Cut spoke to Goldcrown about how pizza led to his big break and why Gordon Ramsay is his ultimate inspiration.
What do you think about, creatively, when you're collaborating on a project like this?
It depends on the brand, but with beauty, I always want things to look very clean and fresh.
What inspired me to work with the brand was my mother, really. Growing up, my mother and sister always used her products, so there's a nostalgia there. When they approached me, I was eager to collaborate because of that nostalgia. My mother is the most excited that I've ever seen her — she went to the launch in London and felt like a bit of a celebrity. And of course now she probably has a lifetime supply of Eight Hour cream.
Where did you get your initial idea for the Lovewalls?
I've always been spray painting hearts, and introducing it into the work. I was offered the opportunity to do a mural at a restaurant in Soho, a pizza restaurant called L'Asso. They have a rotational wall where different artists could come in and do designs, and asked me if I wanted to do something for February. My friends all suggested that I do the Lovewall because it would be perfect for Valentine's Day. Being the typical rebellious artist, I said, "No it's too obvious." I did it anyway.
Who has been a source of inspiration for you, personally and professionally?
People who have an open mind and strong sense of self-discipline are very inspiring to me. For some reason, I've always been inspired by chefs. I've been a big fan of Gordon Ramsay and Anthony Bourdain. Jay-Z is also a big inspiration for me. I listened to his album The Blueprint when I first moved to New York. I would listen to it every day on repeat as I walked from the East Village to Midtown and back.
Gordon Ramsay and I have a very similar story. His father was an alcoholic, and although my father didn't pass away like his did, I don't have a relationship with mine anymore. I've read all his books, and am really inspired by his work ethic. With Anthony Bourdain, there was something very dark about him, but he was such an engaging person with such knowledge. He blended in with people and didn't judge.
How would you like to see art, beauty, and philanthropy overlap in the future?
I think it's already happening. Collaborations are really the way the world is going. It creates much more awareness to pair charities with celebrities, artists, and brands.
Look over the last four or five years, at the awareness that's been raised for the women's movement. Or how quickly we've moved forward with [banning] plastic straws. We're definitely going the right way.
Photo: Courtesy of Elizabeth Arden
Photo: Courtesy of Elizabeth Arden
If you buy something through our links, New York may earn an affiliate commission.