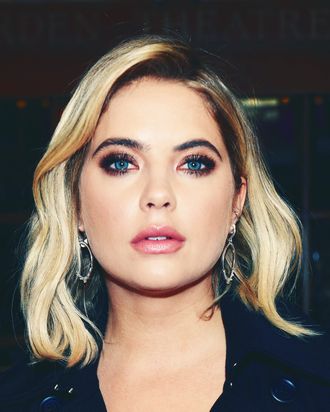 Ashley Benson.
Photo: GP Images/Getty Images
When Ashley Benson left a sexy comment on Cara Delevingne's Instagram, many inferred that the Pretty Little Liars actress was slyly confirming the rumor that the two have been dating for months. But fewer than 24 hours after Benson's message — "Mine" — appeared under Delevingne's Instagram, the actress claimed that she had been hacked, and the Instagram comment seemed to have been deleted.
Back in early May, rumors about Benson and Delevingne's romantic partnership started to circulate after the pair was photographed leaving a Lauryn Hill concert. In the months since, the pair has publicly cuddled and partied and locked lips, truly all around the world, but neither have yet to confirm that they're exclusively seeing each other. And while it seemed as if Benson was finally ready to make it official on Monday, she later suggested that a hacker left the cute comment, as well a perplexing one involving the sushi emoji. ("I can see your 🍣🍣🍣").
In a selfie posted to her Instagram Stories, Benson wrote, "When you just get off a flight with no WiFi and find out your Instagram got hacked…" with heart and middle-finger emojis. Per Elle, both comments are gone.
Hm. Very mysterious indeed. Now, time to move on to another pressing question: Is the sushi emoji the new peach?