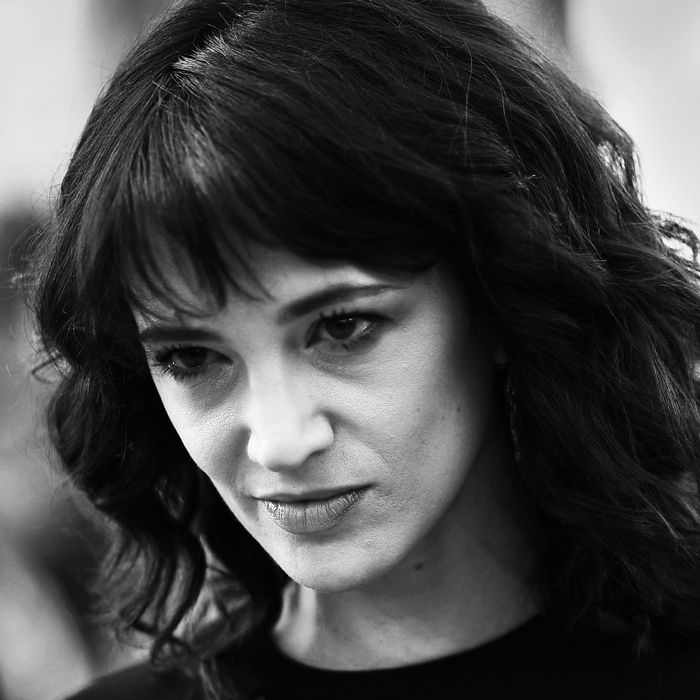 Asia Argento.
Photo: AFP/Getty Images
In August, the New York Times reported that Italian actress and outspoken #MeToo advocate Asia Argento had reached a deal to pay $380,000 to actor Jimmy Bennett, a former co-star who accused her of sexually assaulting him in a California hotel room when he was 17 years old. (The age of consent in California is 18.) Argento later denied the claim and also alleged that her late boyfriend Anthony Bourdain was involved with paying Bennett.
But soon after, photos and texts emerged that may contradict Argento's statement. Eventually, Argento's fellow #MeToo activist Rose McGowan revealed that the texts were sent by Argento to the person McGowan had been dating, model and activist Rain Dove — and that Dove turned the messages over to the police.
Now, in mid-September, Argento has issued a threat to McGowan: she must retract the "horrible lies" made in her August 27 statement about the alleged assault, or face legal action.
The entire case is incredibly complex. Here, what you need to know.
Documents seen by the New York Times show that Jimmy Bennett accused Argento of assaulting him when he was a minor.
According to the New York Times, Bennett, now 22, has known Argento, now 42, since he was a child — she starred as his mother in the 2004 film The Heart Is Deceitful Above All Things. The pair kept in touch over the years and met up in a California hotel room in 2013, when Bennett was 17 and Argento was 37. While there, Bennett claims, Argento gave him alcohol and sexually assaulted him.
Bennett's attorney sent Argento a notice of intent to sue after she spoke out against Weinstein.
The Times reports that an attorney for Bennett sent a notice of intent to sue in November — just one month after Argento's allegations against Weinstein were published by The New Yorker. "His feelings about that day were brought to the forefront recently when Ms. Argento took the spotlight as one of the many victims of Harvey Weinstein," the notice reads. Bennett's attorney said his client was subjected to emotional damage and lost wages as a result of the "sexual battery."
Argento reached a deal with Bennett that included transferring over the copyright of selfies they took together.
The actress eventually agreed to pay $380,000 to Bennett over the course of a year and a half — with $200,000 paid in April. Argento's attorney Carrie Goldberg wrote in a letter, as reported by the Times, that Bennett agreed to transfer over the copyright of several selfies he took with Argento on the day of the alleged assault. But the agreement did not include a nondisclosure agreement, as Argento reportedly felt it was "inconsistent" with her public messages against such agreements.
Two days after the report was published, Argento issued a denial of the claims.
The Times had stated that it repeatedly tried to contact Argento for comment. She did not respond to the Times' requests. But finally, in a statement two days after the report was published, Argento wrote that she "strongly" denies and opposes the allegations in the article. She also alleged that she never had sex with Bennett. Her statement further reads:
I was linked to him during several years by friendship only, which ended when, subsequent to my exposure in the Weinstein case, Bennett – who was then undergoing severe economic problems and who had previously undertaken legal actions against his own family requesting millions in damages – unexpectedly made an exorbitant request of money from me.
Argento also claimed her late boyfriend, Anthony Bourdain, paid Bennett himself out of "compassion."
The Times reported that Bourdain helped Argento "navigate the matter," and in her statement, the actress invoked Bourdain multiple times. She claimed Bennett reached out to her for payment with the belief that Bourdain had "great perceived wealth" and a reputation to protect. She further claimed that Bourdain "insisted the matter be handled privately." Argento continued, "We decided to deal compassionately with Bennett's demand for help and gave it to him. Anthony personally undertook to help Bennett economically, upon the condition that we would no longer suffer any further intrusions in our life."
California confirmed that they opened a case into the matter.
The Times reported last week that California police are looking into the allegations against Argento. A captain with the Los Angeles County Sheriff's Department, Darren Harris, said in a brief statement that the agency was aware of the alleged incident. Harris also said to the Times that officials had not yet "located any police report alleging criminal activity" but that they were reaching out to Bennett and his representative.
Soon after, published photographs and texts appeared to contradict Argento's statement.
Last Wednesday, TMZ published photographs that appear to show Argento and Bennett together, as well as screenshots of texts in which Argento allegedly told a friend that she and Bennett had sex but said Bennett had initiated the encounter, and that she didn't realize he was a minor at the time.
Bennett said he had felt too "ashamed" to speak out when the assault occurred.
Bennett spoke out for the first time since his allegations were published, telling the New York Times in a statement that he had felt too "ashamed" to come forward earlier. Per the Times:
"I tried to seek justice in a way that made sense to me at the time because I was not ready to deal with the ramifications of my story becoming public," he said in a statement provided to the Times. "At the time I believed there was still a stigma to being in the situation as a male in our society. I didn't think that people would understand the event that took place from the eyes of a teenage boy."
Rose McGowan said in a statement that the released texts were sent to Rain Dove, and that Dove had handed them over to the police.
In a lengthy statement released Monday night, McGowan — who became close with Argento after their respective sexual-assault allegations against Harvey Weinstein went public — said that the texts that were released were actually messages between Argento and Rain Dove, a model and activist with whom McGowan had been involved. The statement reads, in part:
I received a phone call and series of messages from the being I've been dating- Rain Dove. They said that they had been texting with Asia and that Asia had revealed that she had indeed slept with Jimmy Bennet. Rain also shared that Asia had stated that she'd been receiving unsolicited nudes of Jimmy since he had been 12. Asia mentioned in these texts that she didn't take any action on those images.  No reporting to authorities, to the parents, or blocking of Jimmy's social media. Not even a simple message "Don't send me these images. They are inappropriate." There were a few other details revealed as well that I am not at liberty to mention in this statement as investigators do their job. 
Argento's attorney said in a statement that she will not pay Bennett the rest of the $380,000 from the agreement. (He has already received $250,000.)
In a statement, attorney Mark Jay Heller denied that Argento had a sexual relationship with Bennett — instead, he wrote, it was a "long distance friendship over many years" — and that Bourdain had entered the agreement to pay $380,000 to Bennett. The statement continues:
 Now that Mr. Bourdain has passed away and is not able to comment on his desire to avoid potential scandal … Asia will not permit any portion of the balance of the $380,000 payment to be paid to Bennett who has already received $250,000 from Anthony Bourdain.
Argento threatened to sue McGowan if she doesn't retract her statement within 24 hours.
On September 17, Argento issued a threat to McGowan on Twitter, saying that she will sue McGowan if she doesn't apologize and retract her August 27 statement regarding the Jimmy Bennett assault allegations.
#MeToo activists have distanced themselves from Argento — and stated that her alleged behavior should not undermine the cause.
A number of #MeToo activists, including founder Tarana Burke, have spoken out since the allegation was published. Burke, for one, voiced support for the alleged victim and expressed a desire that this one case not be conflated with the rest of the movement.
A number of other #MeToo activists distanced themselves from Argento and vowed to continue to fight for victims of sexual assault.
This post has been updated throughout.