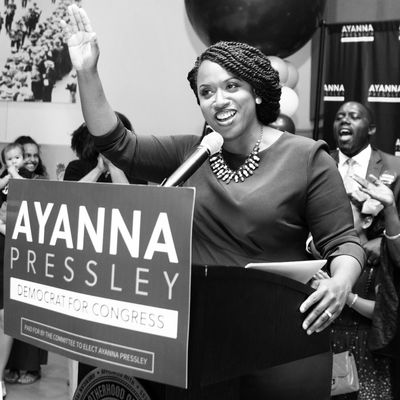 Ayanna Pressley.
Photo: Alena Kuzub/Getty Images
In January, Boston city councilor Ayanna Pressley announced she was challenging congressman Mike Capuano, a well-liked incumbent who had represented Massachusetts's 7th congressional district for ten terms — and who was assumed to hold a safe seat. When 44-year-old Pressley heard the first report on Tuesday night that Capuano had conceded, and that she had won her Democratic primary in a stunning upset, she wept tears of astonishment and joy.
Pressley, who has worked in politics for decades as a congressional aide and a city councilor, challenged Capuano from the left with a platform of Medicare for all, abolishing ICE, and eliminating cash bail. She also accepted no PAC money, and largely spread her message "on the doors, phones, and via social and earned media," per a campaign official.
Because the 7th Congressional district is one of the most left-leaning in the country, and there are no Republican candidates on the ballot for November, Pressley has positioned herself to become the first black woman to represent Massachusetts in the House.
"We have together ushered in something incredible," Pressley told supporters after her win. "People who feel seen and heard for the first time in their lives, a stakehold in democracy and a promise for our future. That is the real victory, that is bigger than any electoral victory. And I want to thank you all for being foot soldiers in this movement and for ushering in this change."
Even before her the primary, some were making comparisons between Pressley and Alexandria Ocasio-Cortez, the 28-year-old political newcomer who went on to unseat a longtime incumbent in the Democratic primary for New York's 14th congressional district; both are women of color with progressive platforms who, as of last night, beat older white men who were previously believed to be in safe seats. In each of their respective races, Ocasio-Cortez and Pressley also endorsed one another.
Though some have pushed back on this parallel — notably, because while Crowley was an establishment Democrat, Capuano is a more progressive congressman who supports Medicare for all and impeaching President Trump — Ocasio-Cortez called Pressley her "sister in service" in her congratulatory tweet last night.
"Ayanna Pressley and I bonded over running while constantly told it's 'not our turn,' that we 'weren't read,' 'good enough,' or 'experienced' enough," Ocasio-Cortez tweeted. "We kept going anyway … Here's to November."
As Pressley asserted throughout her campaign, "change can't wait."