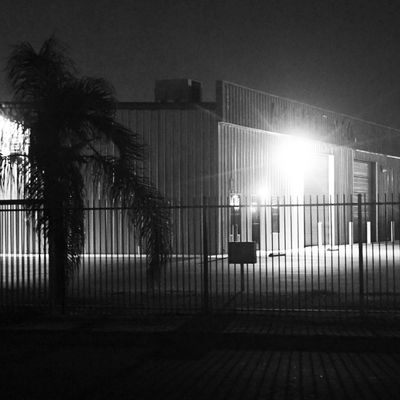 The scene of the shooting in Bakersfield, California.
Photo: MARK RALSTON/AFP/Getty Images
A gunman opened fire in Bakersfield, California, on Wednesday night, leaving six dead, including himself. Many details about the shooting spree remain unknown, but the story is beginning to take shape. Here's what we know so far about the case.
What happened?
Officials say the first shooting began at a trucking business in an industrial complex in East Bakersfield around 5 p.m. local time; police responded to calls at 5:19. According to Kern County Sheriff Donny Youngblood, who spoke at a news conference late Wednesday, a husband and wife had visited the shop and got in a confrontation with a man there. The husband then shot and killed him, before fatally shooting his wife as well. When someone else arrived at the scene, the shooter briefly chased him while firing his gun, circling a gun store called Bear Mountain Sports (authorities believe the gun store was unconnected to the shooting). He then shot the man to the point of death. According to one witness testimony in the Washington Post, multiple gunshots were fired within minutes.
The gunman then fled the scene, stopping at a nearby house — where he shot and killed two more men.
Fifteen minutes later, he hijacked a car with a woman and child inside; he persuaded the mother to give it up, and they were able to escape unharmed. He then drove it onto a highway, where he saw a police car. He pulled over. As the officer approached him with a gun drawn, the shooter stepped out of the vehicle, turned his gun toward his chest, and took his own life.
Who were the victims?
Youngblood clarified that all those shot by the gunman were adults, but he didn't provide many more details. Investigators are trying to figure out the wider context of the relationships between the gunman and his victims.
What weapons did he use?
According to the sheriff, the gunman used at least a single handgun, though he does not know yet if he had other weapons at his disposal.
What were his motives?
Police are still investigating the gunman's alleged motives and his relationship to the victims. The story's details remain unclear.
"Where we go from here is try to figure out why this started and why there are so many players involved in the connection, because obviously these are not random shootings," Youngblood told reporters. He believes the string of shootings are "certainly" connected.
At least 30 witnesses will be questioned by investigators in the next few days. There is also video footage from the body camera of the officer who approached the gunman that has yet to be looked at.
"It's very unusual to have six people killed in one incident," he continued. He later added, "This is the new normal."
Updated Friday, September 14, 5:00 p.m.:
The gunman has been identified as Javier Casarez, 54, local ABC affiliate KABC reports. Last December, Casarez filed for divorce from him wife 45-year-old Petra Maribel Bolanos De Casarez, one of the victims in Wednesday's shooting. KABC suggests that this offers a "possible motive."
This post will be updated as more information becomes known to the public.