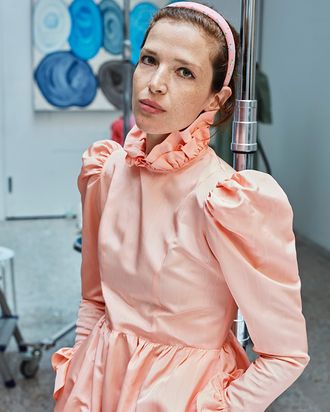 Batsheva Hay.
Photo: Courtesy of Batsheva
Batsheva Hay has led the charge in getting New York Fashion Week's most stylish women back into puffy-sleeved prairie dresses. The designer's ultra-feminine, modest dresses have caught the eye of Natalie Portman, Gillian Jacobs, and Laila Gohar. Hay's Instagram is an equal mix of vintage Laura Ashley ads, Orthodox Jewish women (she grew up in an Orthodox household), and celebrities wearing her designs. She spoke with the Cut about the best places to shop for vintage, her favorite New York restaurants, and brisket.
How do you thank someone for a gift?
I send them flowers, or a bonnet.
What would you never wear? 
Never say never, but probably not shorts.
What's your dream vacation?
Some sort of Japanese onsen experience.
What's a good book on your coffee table right now? 
The Highly Sensitive Person.
Favorite piece of furniture in your apartment/office?
Our huge cozy couch. It's from Restoration Hardware and is more comfortable than our bed.
Last show you binge-watched?
We don't watch TV. Probably Homeland, like three years ago.
What's your go-to dinner-party meal?
Brisket, my husband's grandma's recipe.
What's your best antique find?
I've found such amazing homemade dresses in antique shops. The hand-stitched ones are so personal, and I love them so much.
Favorite place in the U.S. to shop for vintage?
Reno, Nevada. Although any small town will do.
What is a trend that you like right now?
I obviously like prairie and Americana, but I'm down with it all!
Favorite museum/gallery?
The Met. Sorry, so obvious.
Shoes you wear most often?
Sneakers, all sorts. I also love MNZ.
What's your favorite…
Flower?
Lilacs.
Pajamas?
Any slip will do.
Candle?
I'm not into them.
Scent?
I like Une Rose by Frédéric Malle.
Sheets/bedding?
We inherited some nice Frette.
Restaurant?
ABCV! So good! And Omen, and Souen.
Suitcase?
T. Anthony monogrammed.
Socks?
Don't really wear them!
T-shirt?
I have a massive collection of vintage ones, it's quite pathetic actually.
Shop the Story
Photo: Courtesy of the Retailer
Photo: Courtesy of the Retailer
Photo: Courtesy of the Retailer
If you buy something through our links, New York may earn an affiliate commission.
This interview has been edited and condensed.