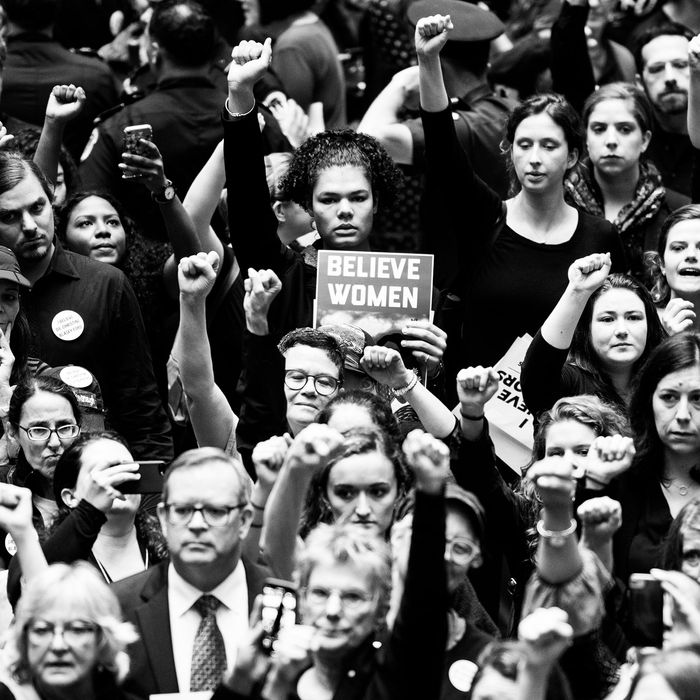 Photo: Bill Clark/CQ-Roll Call,Inc.
On Monday afternoon, black-clad people across the country walked out of their schools and offices as part of the #BelieveSurvivors protest to show their support for the two women who have publicly accused Supreme Court nominee Brett Kavanaugh of sexual misconduct.
The protest comes one day after The New Yorker published Deborah Ramirez's account of a man she believes to be Kavanaugh shoving his penis in her face at a Yale party. The week before, Dr. Christine Blasey Ford told the Washington Post that in high school, Kavanaugh locked her in a room, pinned her to the bed, and attempted to "force himself on her."
"I thought he might inadvertently kill me," Ford told the Post. "He was trying to attack me and remove my clothing."
Their stories have strengthened the calls for President Trump to withdraw Kavanaugh as a nominee, and have also reignited a national discussion about how we treat the people who speak up about their experiences of sexual assault.
Since coming forward, people have tried to discredit, mock, and harass Ford and Ramirez online. Ford and her family have had to move out of their Palo Alto home because she was receiving so many death threats. The president wondered why she didn't report her assault earlier, a naive comment that led many Twitter users to share why they didn't come forward about their abuse with the hasthag #WhyIDidntReport.
But on Monday, people stepped out to show their support for Kavanaugh's accusers, as well as all survivors of abuse who haven't been believed.
Celebrities like Allison Janney, Kerry Washington, the cast of Will & Grace, and the cast and crew of Full Frontal With Samantha Bee joined the walkout.
Politicians including Alexandria Ocasio-Cortez, First Lady of New York City Chirlane McCray, and Kamala Harris also showed their support.
And at monuments and government buildings across the capital, protesters and activists gathered to call for Kavanaugh's withdrawal, and it appears several arrests have been made.
And the kids, as usual, know what's up.