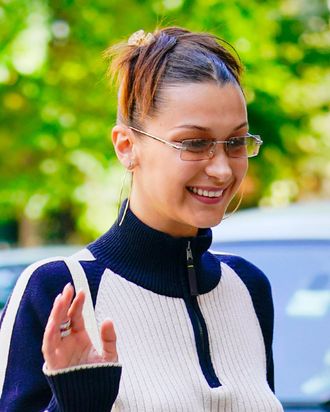 Bella Hadid.
Photo: JACKSON LEE/GC Images
It's hard not to love a comeback, especially when it involves hair. Even harder to resist? A feud, especially when it escalates during New York Fashion Week. Thanks to Bella Hadid's latest hair accessorizing journey, we're on the precipice of the trifecta: A possible feud between two hair accessories in the midst of comebacks, and it's brewing during Fashion Week. Let's break it down.
The latest comeback kid of hair accessories, the scrunchie, got a makeover and has more or less been re-embraced by the very people who thought they'd outgrown it. But in recent weeks, Bella Hadid has been campaigning hard for the claw clip, another forgotten (in public, at least) '90s era hair accessory that is everything the scrunchie is not.
The scrunchie is soft, cushy, and accommodating, gently clinging to your wrist like a security blanket and conforming to your hair needs. The claw clip is hard, pointy, and sleek — much harder to wear around your wrist, but able to give you an occasional head-scratching that scrunchies can only dream of.
The claw clip is the clear underdog for the time being, and it looks like Hadid's loyalty to the accessory is already dividing families. Stylist Mimi Cuttrell recently posted a picture of Bella Hadid out and about in New York, and while the majority of comments focused on Hadid's outfit, hairstylist Jen Atkin said, semi-threateningly, "Well we need to talk about these hair clips." Atkin styled Hadid's hair for last night's Harper's Bazaar Icons Party, so time will only tell if they indeed did have a talk.