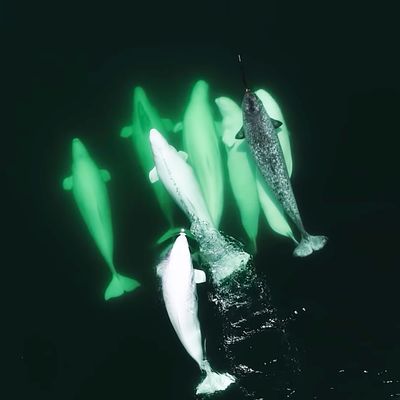 Nice Boys Club.
Photo: Baleines En Direct/Youtube
A beautiful thing about nature is seeing how much different species have in common: mothers across the animal kingdom doting on their young, different creatures mourning the loss of their life partners, and groups of guys getting together to hang out and play "some social, sexual games."
As the CBC reports, for the past three years, the Quebec-based whale research Group for Research and Education on Marine Mammals (GREMM) has spotted a lone narwhal swimming with a pod of young, mostly male belugas in the St. Lawrence river, who seem to have adopted him.
The narwhal "behaves like it was one of the boys," said Robert Michaud, president of GREMM. "They are in constant contact with each other. It's a like a big social ball of young juveniles that are playing some social, sexual games." Fun!
Narwhals typically live farther north than belugas, and they don't typically interact very often, though both species are extremely social. Michaud says this particular narwhal was very lucky "because he found almost normal buddies."
And these friendly whales are not the only boys to enjoy a nice social, sexual game. Earlier this week, GQ published an interview with Beatles legend Paul McCartney in which he shared that, when they were younger, he and John Lennon and some other friends hung out and masturbated together. "It was good harmless fun," he said.
But while humans and whales may be similar when it comes to play stuff, humans have a lot to learn from their horny, watery cousins when it comes to welcoming others.
"I don't think it should surprise people," said Martin Nweeia, a researcher at Harvard who has studied narwhals for other two decades. "I think it shows … the compassion and the openness of other species to welcome another member that may not look or act the same. And maybe that's a good lesson for everyone."