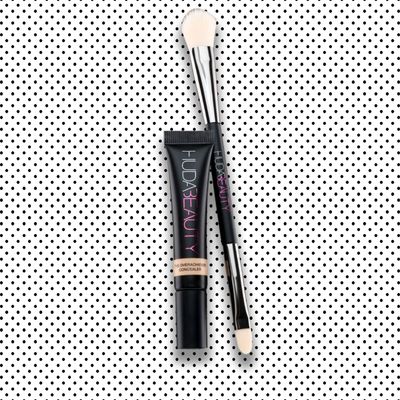 Photo: Courtesy of Huda Beauty
Overachiever: The word conjures images of someone who is doing so many things at once you can't even begin to imagine how they get things done. They go to the gym every morning, they always send birthday and anniversary cards, and you can't remember the last time you saw them with chipped nail polish. Whew, that's a lot.
Huda Beauty naming their new product Overachiever Concealer is a delightfully cheeky nod to the fact that we expect a lot from concealer. They better provide enough coverage to hide imperfections, but not look too cake-y or piled on. They need to blend seamlessly into skin, but also give a hefty dose of color-correcting power to redness and dark spots. They should be available in a variety of shades and easy to apply, and if they could pay off your student loans, that would be great, thanks!
What makes this particular concealer an overachiever is that it's described as a "skin-correcting armor" that supposedly improves skin tone as you use it consistently. It contains green tea extract, which the brand purports help "strengthen" skin. Allegedly, it doesn't sink into fine lines while you build up coverage. It seems like a pretty good product to make sure your overachieving self looks well-rested while you run around trying to change the world. Check out the 20 shades below, and get it in stores or online on October 8.