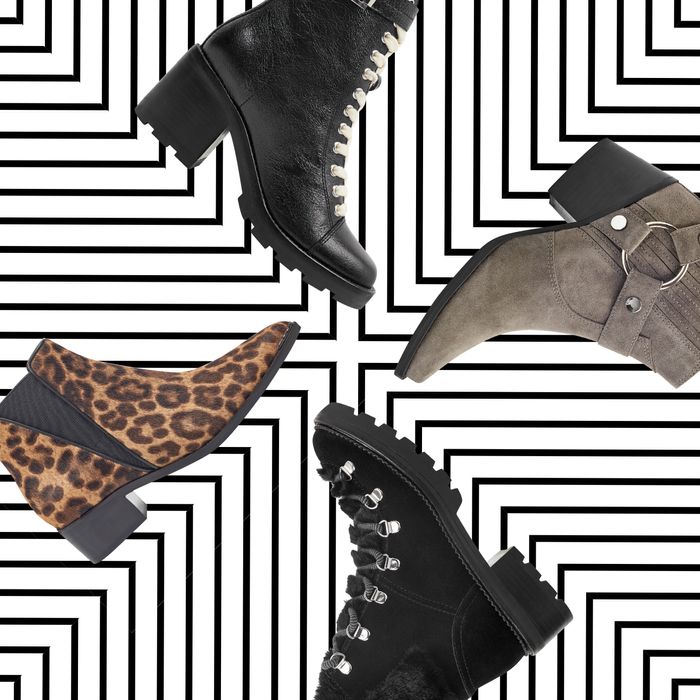 Photo: courtesy of Marc Fisher LTD
While freewheeling, bohemian shoe styles are fine for the hot, lazy days of summer, the annual baton-pass to fall signals an overall more thoughtful and intentional approach to fashion. But don't worry if you're still dreamily shaking the sand out of your beach bag: Turning over your footwear wardrobe is as easy as focusing on a few trends that'll carry their weight throughout the season. See below for ten must-have boot styles—arguably the only pairs you need this fall—from Marc Fisher LTD's latest collection. They're priced so you can cover a range of trends, from combat to Western. And, bonus: From September 15 to October 15, you can get 20% off* full-priced styles with the code THECUT20.
In your arsenal of seasonal footwear options, an edgier everyday style is vital. These fashionable combat boots fit the bill in versatile olive.
Details like textured leather and a super-sleek shape mean this black bootie will elevate everything in your closet.
Consider leopard—specifically this Chelsea bootie—your go-to styling move when the most creative outfit you can muster is jeans and a turtleneck.
These could very well be the most luxe "hiking" boots you ever own. Wear them with casual denim and a puffer vest, or go glam in an all-black look.
Red, a Cut-editor favorite color, immediately makes a statement. Slip these showstoppers on when you're looking for something sexy but sturdy.
We can't say when the weather will cool off enough to wear these, but we can predict that a flock of style influencers will be ready when the time strikes.
Refined styling makes this Western style effortless to pull off. Try it with everything from maxi dresses to cropped trousers.
The sophisticated shape, shearling tongue, and contrast laces make these stylish enough for a film fest in the mountains—or exploring the city.
Think of these must-have stiletto ankle booties as the crown-jewel option for the print of the season, leopard.
Try not to feel like a badass in these '90s-inspired, cracked-leather stompers. The best part is that you can actually walk in them, too.
*Offer cannot be combined with any other promotion. Valid for one use only.
Images courtesy of Marc Fisher LTD.
This is paid content produced for an advertiser by New York Brand Studio. The editorial staff of The Cut did not play a role in its creation.