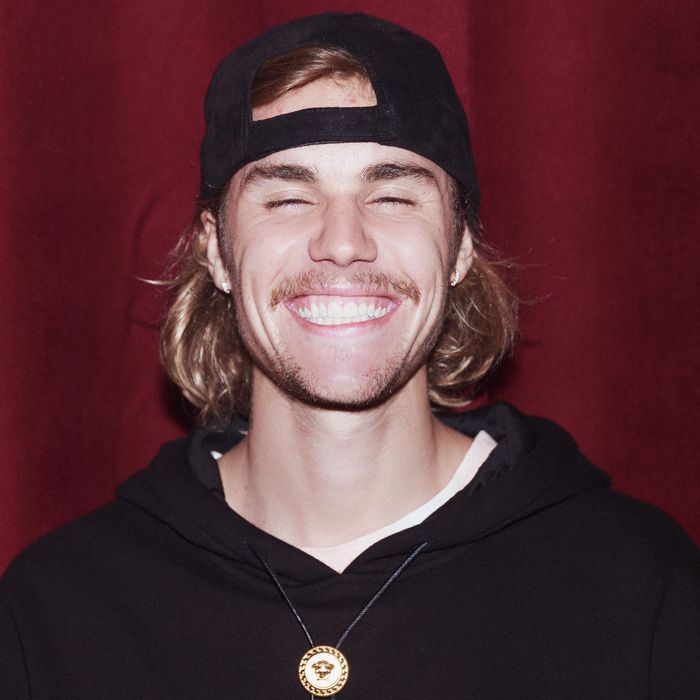 Justin Bieber wearing Kith x Versace.
Photo: Hagop Kalaidjian/BFA/REX/Shutterstock
As far as New York Fashion Weeks go, this season might have been the most fun, drama-filled yet. Or maybe we just don't remember the others. Whatever! Fashion is all about the now. And we're still buzzed from the week's highs, of which there were many.
The week began with some off-the-charts drama involving Nicki Minaj and Cardi B, where shoes were thrown and wigs quite literally snatched. Then, both Pete Davidson and Justin Bieber took their shirts off. Kanye West got a journalist booted from the Ralph Lauren 50th anniversary event. Jeff Goldblum and Henry Golding successfully distracted us from all the clothes. Marc Jacobs ran over an hour late, with an almost-exit from Anna Wintour. And finally, Slick Woods went into labor while modeling Rihanna's Savage x Fenty lingerie. Let me say that again: a model went into labor on Rihanna's runway.
And that's only the beginning. Below, some memorable moments you may have missed.
Tiffany Haddish Made So Many New Friends
When we first spotted Tiffany Haddish front row at Jeremy Scott on Thursday, it was her first-ever New York Fashion Week show and she was understandably overwhelmed. "Get back to me," she said when asked to comment on the scene. The next day, she seemed to fit right in next to Julianne Moore at Tory Burch. ("We ready," Moore captioned their selfie together after.) And by the final day of Fashion Week, Haddish was clearly the cornerstone of the all-star cast sitting front row at Michael Kors. Behold the blessed image, below.
Laura Dern's Son Walked Calvin Klein
Just when you think there couldn't possibly be any celebrity offspring left without a modeling contract, another star is born. Madonna's daughter Lourdes Leon made headlines when she walked Gypsy Sport on Tuesday — her first time ever walking a New York Fashion Week runway. But you might have missed Laura Dern's 16-year-old son, Ellery Walker Harper, who made his runway debut at Calvin Klein that same night. What a sweetie!
Fashion Tevas Were Everywhere
It seems fashion has finally learned to stop worrying, and just love Tevas. They walked the runway at Anna Sui, Collina Strada, Sandy Liang, and Rachel Antonoff included them in her lookbook.
One Presentation Took Place Inside a Diner
Much to our dismay, hamburgers were few and far between this Fashion Week. So we had to take the free milkshakes and fries where we could get 'em, which was at the Batsheva presentation inside Tribeca's Square Diner.
This Happened
The memes write themselves.
Justin Bieber Wore a Bolo Tie
Kith one-upped itself this season with a mega-show featuring collaborations with Tommy Hilfiger and Versace. (Versace!) Justin Bieber also outdid himself when he introduced a Kith x Versace bolo tie into his laid-back, sleaze-lebrity uniform. Now we definitely need one.
And We Found the Perfect Post–Fashion Week Bag
Brandon Maxwell brought some Texas charm to New York this season, and we really appreciated it. Cheers, y'all!