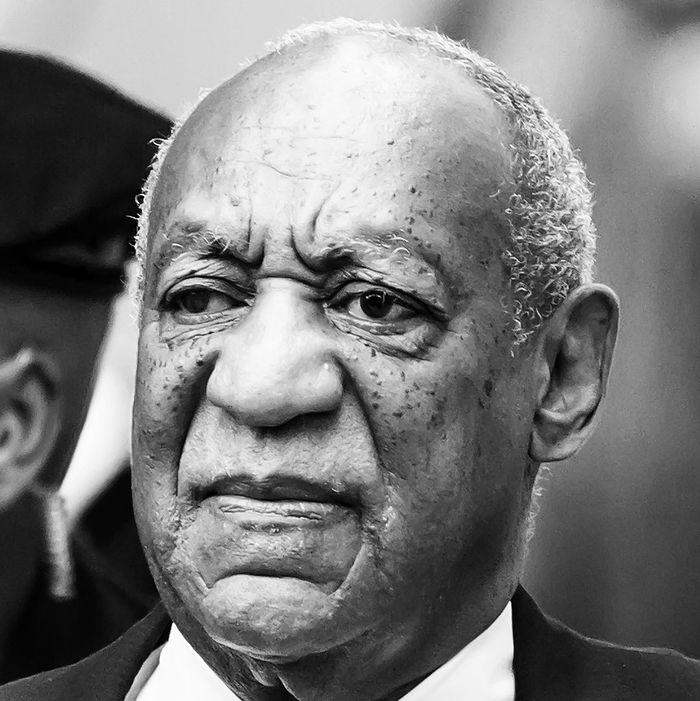 Bill Cosby at the courthouse on Monday.
Photo: Gilbert Carrasquillo/Getty Images
Comedian Bill Cosby was sentenced to three to ten years in state prison and classified as a "sexually violent predator" for the 2004 assault of Andrea Constand on Tuesday.
Cosby, 80, has been accused of rape or sexual assault by over 60 women, though the statue of limitations has expired in the majority of their cases. (In 2015, 35 of them shared their stories with New York Magazine.) In 2015, three assault charges were filed against Cosby based on Constand's allegations that he drugged and sexually assaulted her a decade prior; at the time, she was working for the women's basketball team at his alma mater, Temple University. That case ended in a mistrial in June 2017.
But between then and his retrial in April 2018, the Harvey Weinstein allegations became public and kicked off the #MeToo era, as well as a renewed cultural conversation about sexual assault and power. Five other women who had accused Cosby of assault were permitted to testify during the trial, and the jury reached a verdict in about 13 hours. He was found guilty of one count of penetration with lack of consent, one of penetration while unconscious, and one of penetration after administering an intoxicant.
"I really didn't think I'd see this day," accuser Kelly Johnson told the Cut after the guilty verdict. "After the devastation of it being a mistrial last year, I didn't want to get my hopes up. Last year's trial had such a different feel and tone and tenor — but of course, that was before #MeToo and everything else."
Before the sentencing, the court released Constand's full victim impact statement, in which she had written, ""Bill Cosby took my beautiful, healthy young spirit and crushed it."
Update, 5:14 p.m.: Cosby was denied bail and will be locked up immediately. His mugshot was also released.