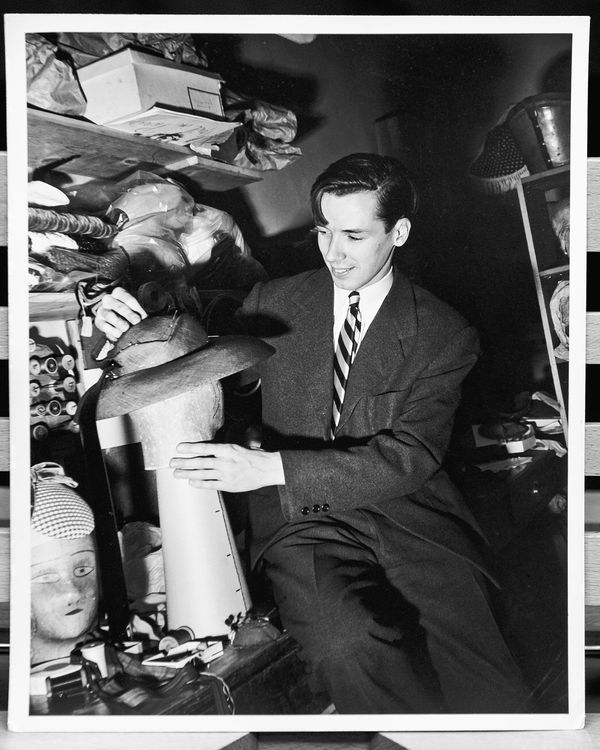 Bill Cunningham.
Photo: Courtesy of the Bill Cunningham Foundation
The fashion world may have dressed for legendary street-style photographer Bill Cunningham, but Cunningham dressed to please himself. At least, that's the impression one gets reading his posthumous memoir, Fashion Climbing, which was released Tuesday. It chronicles Cunningham's life before picking up a camera, and it makes it clear that fashion was his sustenance.
"When I would feel the pangs of hunger, I would go out looking in store windows and feed myself on beautiful things," Cunningham writes, referencing his early days as a starving hat designer in New York City under the name "William J." His creations, which were often shaped like sea creatures and vegetables, may not have flown off the shelves, but Cunningham was steadfast in his vision. His genuine, undying appetite for beauty radiates from the book's pages, making it a delight to consume.
Although eating fashion for breakfast maybe not the best advice, Fashion Climbing is full of wisdom and takes a uniquely frank approach to industry politics. Cunningham paints a picture of what it was like to come up in 1950s New York, from over-the-top costume parties where his handmade garments caught fire and included live chickens, to his own fashion shows on 54th street, which Julie Andrews may or may not have attended.
Cunningham was private about his personal life, yet knew every single designer, society darling, and media elite on the scene. How? For him, no door was ever truly closed (gate-crashing was his fashion education), and he treated every soul the same, from the Rockefellers to the wall flowers.
In addition to "there should be more costume parties," (really, there should be!) we've culled Bill Cunningham's best, most life-affirming advice, below.
On how to start your week:
I believed in starting each week with doing the thing you love most. Luckily, my love was flowers. At five thirty each Monday, I'd go down to the New York flower market, where all the colors of nature brightened the early morning. I would buy armfuls of fresh flowers to perfume my salon for the week. This is a practicing luxury I still indulge in, and one that makes all my weeks happy.
On how to start your business:
There's no set way of becoming a designer except steady hard work, with an eye and a will bordering on pure stubbornness for what you truly believe in. Only the people who are willing to sacrifice the security and comforts of the establishment, and fight for their individual believes, cause the developing changes of the world.
On what makes a good designer:
Fashion designers who reach the top and slipcover the bodies of a generation must deeply feel the spirit of the times. It's not just a little effective outward trimming that produces real talent but an inner mystical revelation that a designer brightens the world with.
On the best (and worst) customers:
One of the snags of high fashion is that it attracts the most ambitious social climbers: show-offs, snobs, bigots, and egoists. These women consider themselves as "social" — I think of them as miles of phony society fringe. They are the snake pit of the high-fashion business. By contrast, the customers who gave me the most pleasure were the out-of-towners, especially the westerners. These women have no ax to grind and indulge in fashion purely for personal expression and the joy it brings their families.
On being ahead of the curve:
Sometimes even I myself am afraid to submit to my subconscious inspiration, for fear of being ridiculous, but no matter how wild or vulgar an idea seems at its conception, within five years someone is sure to come up with it. My suggestion to anyone who is creative is: never hold back.
On writing about fashion:
When my column started at Women's Wear, I vowed to myself never to lie about or soft-soap a designer and his collection. The only inflexible rule was that I had to preserve total honesty and integrity when I was reporting. Many a night I went to bed sick from having written articles that were perhaps too blunt, and against popular opinion, but I couldn't allow myself to sink into the phoniness that covers 90 percent of the fashion press.
On social climbing:
The only way to last is to never let anyone really know you, for society is only friendly to new faces, out of fear that you're better than they.
On good taste:
Taste is constant; style varies from season to season. It's all how the wearer adjusts the new style to her proportions. Most mistakes in dressing are committed with proportion of clothes to the body, and the hideous mixture of screaming textures and colors. All this is the reason why women should never go to a designer simply because the newspapers and magazines are raving how marvelous he is. Women should stop and think, selecting the designer's work that best suits their temperament and personality.
On the future of fashion:
Customers have been fed a steady diet of behind-the-scenes goings-on. Now they know almost as much as the pros, and once having seen behind the gold-and-white salons, they lose interest. In the future, I think fashion is going underground, to regain its breath of mystery.
The only thing you need to remember:
There's only one rule in fashion that you should remember, whether you're a client or a designer: when you feel you know everything, and have captured the spirit of today's fashion, that's the very instant to stand everything you have learned upside down and discover new ways in using the old formulas for the spirit of today. Constant change is the breath of fashion.