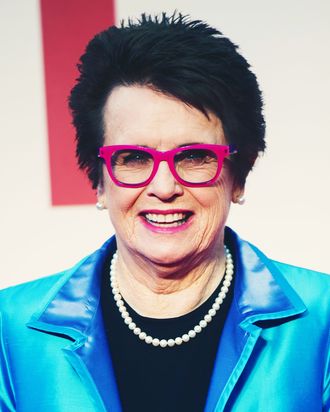 Billie Jean King.
Photo: Samir Hussein/WireImage
Serena Williams did not apologize on Saturday night for her open dispute with chair umpire Carlos Ramos. Asked if she would change anything about the day, she responded that she wouldn't, and called the reaction to her defending herself sexist.
While Serena didn't make any further comments following the press conference, others were quick to come to her defense. Billie Jean King, a former tennis champion and women's rights advocate, shared her thoughts on the outcome of the U.S. Open.
"Coaching on every point should be allowed in tennis," Billie Jean King tweeted. "It isn't, and as a result, a player was penalized for the actions of her coach. This should not happen."
"When a woman is emotional, she's 'hysterical" and she's penalized for it," King continued. "When a man does the same, he's 'outspoken' and there are no repercussions. Thank you, Serena Williams, for calling out this double standard."