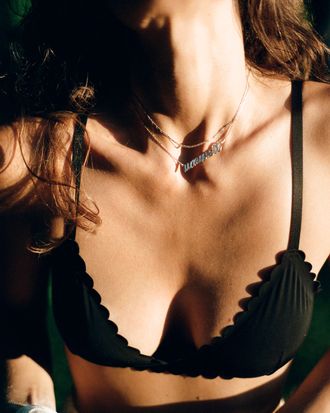 Lexie Smith.
Photo: GEORGIA HILMER
In general, if you have a nameplate necklace, it says your name (or if you live in Taylor Swift's orbit, your partner's). But cool-girl jeweler Anna Sheffield of Bing Bang's newest photo series for her label encourages you to choose a completely random, but meaningful word. The series kicks off Bing Bang's fully customizable store online.
To provide inspiration, she tapped six creative New York women to be photographed and profiled by model/photographer Georgia Hilmer. The words they chose include "umwelt" which means "the world as it is experienced by a particular organism" and "sophrosyne," which is a fancy, Greek way to say "temperence," per Merriam Webster.
Chef Lexie Smith chose umwelt. In a profile with Hilmer, to go live on Bing Bang's website, she explaind that, "having [a] word as an object makes me want, as ever, to pick it up and swivel it around and view it from different angles, literally and figuratively. Wearing a word with such obnoxious philosophical underpinning makes that simultaneously easier and more difficult to do."
Writer Molly Young was drawn to "sophrosyne" because it was a historical, fancy word with a real-world equivalent. Kind of. "[Sophrosyne] was, in short, a more sophisticated and philosophical version of what we call 'adulting' in the 21st century," she told Hilmer.
The third woman to be profiled for this first drop, dancer Nana Yaa, chose her own name — you can't beat a classic. "I guess it's about learning to let go of the ego as my partner says to me over and over," she said. If you are inspired, Bing Bang's customized necklaces retail for $345. May we suggest cracking open a dictionary and choosing the 3rd word on the left?