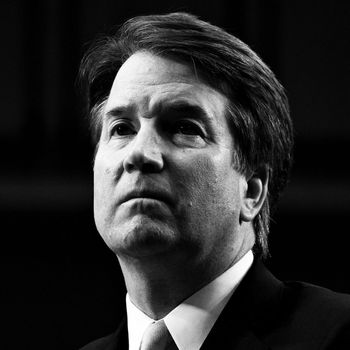 Brett Kavanaugh.
Photo: Andrew Harrer/Bloomberg via Getty Images
Christine Blasey Ford came forward publicly with an allegation of sexual assault against Supreme Court nominee Brett Kavanaugh last week, nearly 30 years after the attack allegedly occurred. Her allegation has put her past, and those who were a part of it, into the public spotlight — and polarized those who support Ford and those who support Kavanaugh, who has repeatedly denied the allegation.
Those who knew her at the time described a change in her behavior around the time the alleged attack occurred. An unnamed male friend told the New York Times that after the summer of the alleged attack, Ford, then known as Chrissy Blasey, "fell off the face of the earth socially."
"All I remember is after my junior year thinking, 'Where's Chrissy Blasey?'" the source told the Times. "She was the sort of person a lot of people paid attention to — she was a leader, she was great. I was like, where did she go?"
Rather than attend parties, Ford disappeared. Other former classmates described Ford as "universally well-liked," "self-possessed," "cheerful, affable, funny, and super smart."
These accounts given to the Times support Ford's own statements that she was "derailed" for years after the alleged assault. Her life following high school centered around her academic research, and later her family. Those who spoke to the Times about Ford in her adult life described her as "a friendly but kind of geeky scientist," "very meticulous with data," and "someone taken very seriously."
It is possible that Ford will be open to testifying sometime next week about the allegation, though the conditions under which she would do so have not yet been determined.