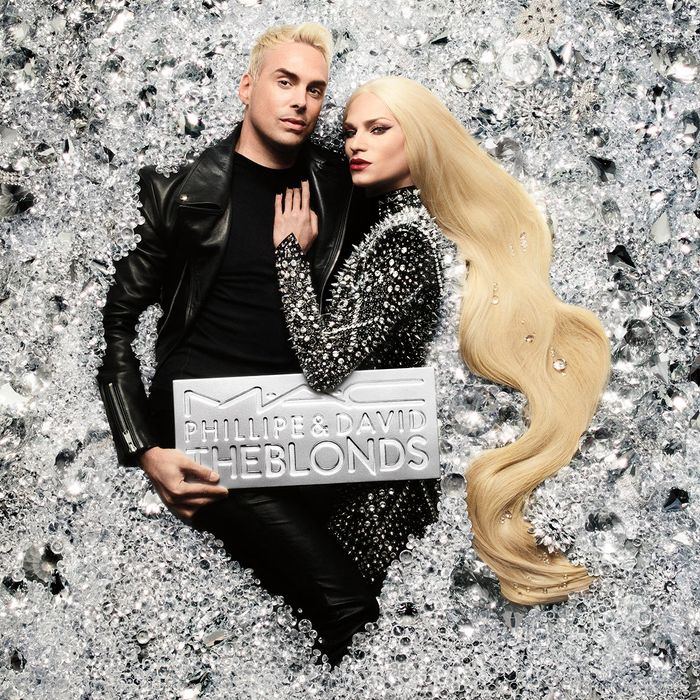 Photo: Industrial Color Tech/Courtesy of The Blonds
David Blond and Phillipe Blond are known for quite a few things: Their collective moniker of The Blonds on the runway, their penchant for bling, their excellent track record of outfitting performers (your Beyoncés, your Gagas, your Rihannas), and their very blonde hair. Lesser known are their former roles as M.A.C makeup artists, but this fun fact finally got an invite to New York Fashion Week. Yesterday, Bombshell Essentials, the Blonds' new makeup collection with M.A.C, launched online featuring two lipsticks, two lip glosses, a liquid liner, a highlighting powder, a very photogenic brush, and sparkle-studded fake eyelashes, all housed in packaging reflective (literally) of the brand's over-the-top glam.
The Cut caught up with the duo on the night before their spring 2019 show where the products will be hard at work bringing their Disney Villain theme to life.
If you were to show me the mood board for Bombshell Essentials, what and who would be collaged all over it?
DB: We've had that mood board for a long time. This collection was based on all the things that we've been inspired by from the beginning. It's all about old Hollywood and people who are strong and glamorous. Everyone from Marilyn Monroe to Beyoncé is in this collection. We really wanted it to be for everybody and we wanted for everyone to feel glamorous every day.
If the collection could talk and had a daily mantra or positive affirmation to share, what would it be?
PB: It would bark a little bit, because we have our dogs, little Prince Bijou and Princess Fifi as lip glosses. [Fifi the Blond and Bijoux Blond]
DB: And the compact is the centerpiece of the whole collection and that is just "Magic."
PB: Yes, so it'd be: "Put a little magic on, everyday." "Sparkle."
In the age of Instagram and shelfies, people are just as interested in product's packaging as they are with the product itself. How did designing packaging for a product differ from designing for a human? PB: It was actually really easy! David and I had a really clear vision. It was just: Diamonds.
DB: When you're designing for something physically hard, you still need a pattern that you have to create. We translated things — like the diamond corset, one of our most iconic pieces became the compact.
How did your previous makeup artist roles with M.A.C play into the collaboration?
DB: We wanted to make something that you could take with you no matter where you are. We also gave everything a classic finish that's versatile for any skin tone and with a little added twist. For example, with the Dazzleglass (lip gloss) — when you put it on the red lipstick [Phillippe Blond], it quickly makes it an evening look.
I know it's frowned upon to have a favorite child but which product in the line are you the most excited about and why?
DB: The compact.
PB: I think the compact is pretty cool. I can't stop looking at it.
Speaking of favorites, who is your favorite Disney villain and why?
PB: I think Maleficent is definitely my favorite. She's very stylish. She's got a great style to her; very New York, in a way. When I look at her, I feel like she's wearing a biker jacket.
DB: I think I have to say Ursula … and maybe a little Queen of Hearts, because neither of them put up with crap.
Lastly, a lot of celebrity guys hit the bleach hard this summer. Any tips for wearing the shade as long-time professional blondes?
DB: Well, you definitely have to put some effort into maintaining it if you want to stay blonde. But I like to keep a little root showing because I'm a little salt and pepper…
PB: I say always leave your bleach on a little longer if you really want that real white. The toner is the secret, though. But just bake a little longer.
If you buy something through our links, New York may earn an affiliate commission.