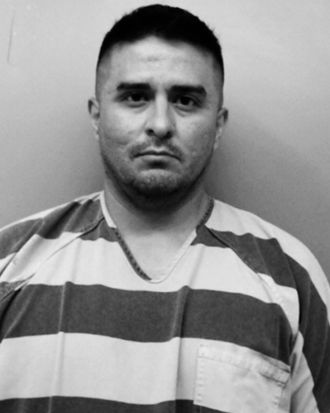 Juan David Ortiz.
Photo: Courtesy of Webb County Sheriff's Office
A grand jury in Texas has charged a Border Patrol agent with capital murder for his suspected role in the killings of four women, meaning that he potentially faces the death penalty. The agent, Juan David Ortiz, 35, has confessed to the killings; prosecutors say they felt comfortable describing him as a serial killer, and that he specifically targeted sex workers. Here's everything we know about the case:
A grand jury has indicted Ortiz on a capital murder charge.
On Wednesday, December 5, after a mere 20 minutes of deliberation, the grand jury charged Ortiz with capital murder, CNN reports; prosecutors have said they intend to seek the death penalty. Ortiz was also charged with one count of aggravated assault with a deadly weapon, unlawful restraint, and evading arrest.
He was first arrested after attacking a woman who managed to escape.
On September 14, Ortiz picked up a woman named Erika Pena on a street in Laredo and took her back to his house, NBC News reports. Pena said that at one point, she mentioned Melissa Ramirez, a friend of hers who had been found dead a few days earlier, and that Ortiz began "acting weird." When they left the house later and drove to a gas station, Pena brought up Ramirez again, at which point Ortiz took out a gun and pointed it at her head. She said she tried to get away, but he grabbed her shirt, so she pulled it off, and ran to a state trooper who was filling up his car at the gas station.
Police found Ortiz an hour and a half later, hiding in the parking garage of a hotel. In custody, Ortiz confessed to the four murders and the attack on Pena, going into lurid detail about each slaying. He was charged with four counts of murder, one count of unlawful restraint, and one count of aggravated assault with a deadly weapon.
His alleged killing spree lasted from September 3 to September 15.
On September 4, police found the body of 29-year-old Melissa Ramirez, a mother of two. According to the Laredo Morning Times, a police affidavit said that Ortiz killed her the day before.
Last Thursday, September 13, police found Claudine Anne Luera, 42, by the side of the road with a gunshot to her head, still alive, but barely. She died at the hospital later that day. She was a mother of five.
Then on Friday, in the hours after Erika Pena escaped from him, Ortiz picked up and killed his last two victims, who have not yet been identified. One of them was a transgender woman.
Ortiz shot all of his victims in the head, and left their bodies by the side of the road.
He targeted sex workers.
All of Ortiz's victims worked in the sex trade. According to Webb County district attorney Isidro Alaniz, this was intentional on his part:
"The scheme in this case, from Ortiz's own words, was to clean up the streets of Laredo by targeting this community of individuals who he perceived to be disposable, that no one would miss and that he did not give value to," he told the Associated Press.
He had been a Border Patrol agent for a decade.
Ortiz worked as an intel supervisor for U.S. Customs and Border Protection. He had worked for the agency for nearly a decade, and prior to that, he served in the Navy. According to the Daily Beast, he specialized in narcotics and human trafficking.
District Attorney Alaniz said that while authorities were investigating the killings, Ortiz kept going to work every day "like normal."
There could be more victims.
Webb County Sherriff's spokesperson Eduardo Chapa told CNN that investigators have not ruled out the possibility that Ortiz killed others.
Ortiz is the third Border Patrol agent to be arrested in Laredo this year.
As the Laredo Morning Times reports, back in April, Border Patrol agent David Villarreal, 32, was arrested on suspicion of sexually assaulting a woman after allegedly threatening to deport her if she didn't have sex with him.
Then in June, Ronald Anthony Burgos-Aviles, 29, was indicted on two counts of capital murder after being accused of killing his girlfriend and their 1-year-old baby.
"While it is CBP policy to not comment on the details of an ongoing investigation, criminal action by our employees is not, and will not be tolerated," U.S. Customs and Border Protection spokesperson Andrew Meerhan wrote in a statement following Ortiz's arrest. "Out of respect for the victims' family and friends, we ask that deference and due process be given to the investigation so that all the facts are brought to light and they can receive the closure they deserve."
This is a developing story and we will continue to update this post as more information becomes available.