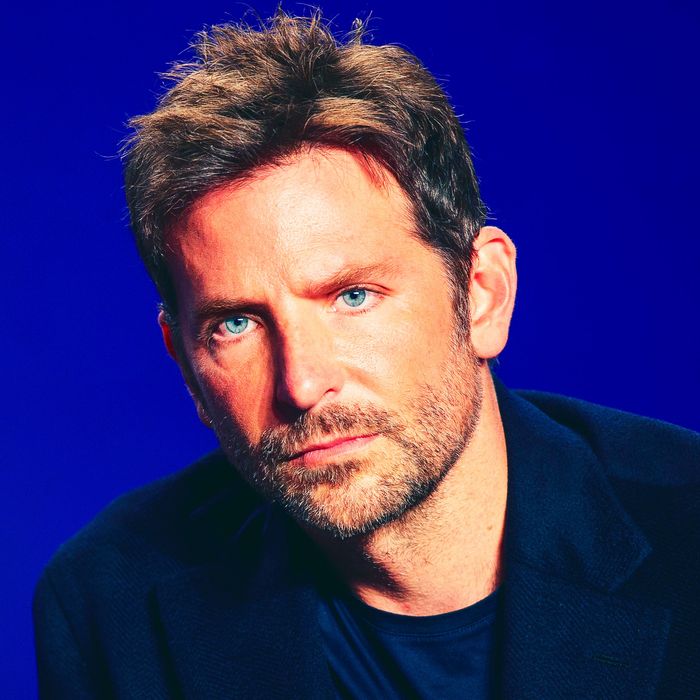 Contemplating the banality of the celebrity-industrial complex during a press conference for
A Star is Born.
Photo: GEOFF ROBINS/AFP/Getty Images
Bradley Cooper is no ordinary celebrity, meaning he doesn't have to cooperate in interviews. Bradley Cooper is an auteur — an actor and director now, with the upcoming release of his A Star Is Born.
In a new New York Times profile titled "Bradley Cooper Is Not Really Into This Profile," he offers Taffy Brodesser-Akner little about his personal life, beside plenty of quotes about the pain of existence and the compulsion one feels to create. Below, we've listed Cooper's most existential quotes, which all seem to lead to the question: When is he going to get bangs?
On acting:
"I guess I felt like I wasn't utilizing all of myself," he said.
And trying to break out of acting:
"Because you're like, 'I have these big dreams, and I feel these things.' Is that all wrong? Like, shame on anybody that's going to tell you who you are. That angers me. It's like, someone's going to tell you who you are, what you're capable of. Like, what?"
On the desperate reality of being alive:
"That's the whole point of creating art, trying to somehow deal with the desperate reality of being alive, you know?" [Cooper says.]




O.K., I say. O.K. But what are we healing from? What was the wound? What was your wound?




All he'll say is this: "The wound was just the wound of being a human being."
On looking in the mirror and realizing he was made to play the starring role in A Star Is Born:
"Honestly," he said. "I could see it on my face. I just felt it."
On changing his voice for the role:
"Your voice is everything as an actor," he said. "It's everything. It's everything. And if you're not connected to your voice, it's over. It's impossible. It's like plugging in the electrical cord to truth, right?"



On having something to say and knowing how to say it:
"What [my character] says in the bar is, you know, 'Talent's everywhere, you know, everybody's talented at one thing or another, but having something to say and a way to say it, that's a whole other bag.' I believe that, you know what I mean?'"
We feel you, man.