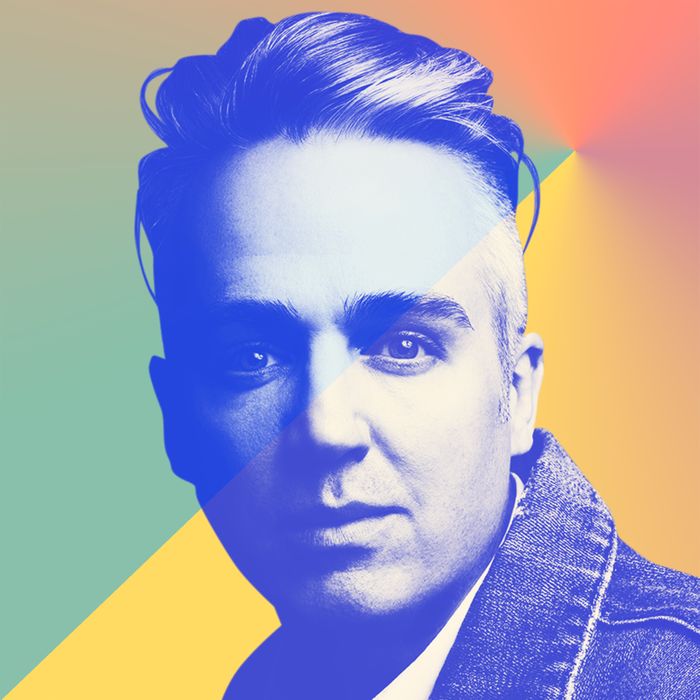 Photo: Original photograph by Ben Hassett
When Troy Surratt was first hired as an assistant to Kevyn Aucoin back in the late '90s, one of his responsibilities was cleaning his boss's tools. "I used to rub my hands over [his] makeup brushes," he remembers. "Just hoping that some of his talent might rub off on me."
Evidently, it worked. His eponymous makeup line, Surratt Beauty, illustrates its founder's keen eye for color and high standards for luxury formulas.
A quiet kid who was into fashion magazines, Surratt dreamed of fleeing the farmlands of his small Kansas town in search of caviar dreams. Actually, the impetus involved egg nog.
"I was watching a soap opera where there was a holiday party scene," his eyes still widening with wonder at the memory. "Everyone was in tuxedos and floor-length ballgowns, and they were all drinking something called egg nog. I'd never heard of egg nog. I wanted to be where the people drank egg nog."
Egg nog — and the encouragement of friends — led him first to the Lancôme counter at a Topeka department store, where an executive noticed his talents and helped him further his makeup artistry. Once he saved enough money, he applied to FIT, got accepted and moved to New York. A job at Alcone, the mecca for makeup artists, landed him in the presence of all the greats, like Dick Page, Pat McGrath, Laura Mercier and Aucoin. He mustered up the courage to cold-call Aucoin's manager for a job and got one.
Surratt worked for Aucoin until his death in 2002 (and is a producer on the documentary, Kevin Aucoin Larger Than Life,  which debuted last year.) He then set off on his own, gaining an impressive clientele while co-creating the Tarte makeup line and being a global ambassador for Maybelline for several years. But the pull to create his own line was always there.
"I had been going to Japan for all these years and I'd always bring tons of products back. I was doing hauls before hauls were a thing," he shrugs. "I'd pull the stuff out and everyone would ask, 'What's that? How do I get it? I knew if I was captivated by it, others would be as well.'"
Surratt Beauty, which debuted in 2013, encompasses every element he loved about these finds. Indeed, every element, from the pigments to the stickers on the bottoms of the boxes, is made in Japan.
Surratt spoke with the Cut about his full devotion to Frederic Malle, a return to brown lipstick, and why La Mer stresses him out.
Bath or shower: Shower with the Christophe Robin Cleansing Purifying Scrub with Sea Salt.
Shaving cream of choice: Shaving Miracle, a gel that my partner Nathaniel gets at High Vibe in the East Village.
Who cuts your hair? Max at Chelsea Barber in London Terrace in Chelsea.
Scent of choice: Frédéric Malle Cologne Indélébile in the spring/summer, Portrait of a Lady in the fall/winter.
Favorite scented candle: Diptyque Baies.
What beauty look on a woman do you love? Smoky eyes, red lips, together or separate.
Who's your favorite beauty icon from the past? Audrey Hepburn.
Toilet paper over or under? Over.
Daily carry-all: Vetements x Eastpack backpack.
Shoe of choice: Balenciaga sneakers.
Preferred daily underwear: Zimmerli.
Daily uniform: Jeans and sneakers, usually both Balenciaga, although lately I've also been wearing Raf's Calvin jeans.
What fashion look do you not get? I don't get hipster-thrift.
Fashion item you would never wear: Kilts or skirts.
Style icon: Demna Gvasalia.
Work icon: Serge Lutens.
What clothes do you stay home and watch Netflix in? Nike athleisure or concert T-shirts.
Podcast listener? Favorites? Yes, Fat Mascara and The Beauty of Vanity Now.
What phrase or word are you known for saying? "Sort of."
What word do you over-use? "Fuck."
Last great book you read? Fashion Climbing, the Bill Cunningham memoir.
Best-selling book that you just couldn't get into? I did not finish Call Me by Your Name.
Who would star as you in the film adaptation? Timothée Chalamet.
Where do you go when you need quiet? The High Line Hotel courtyard.
Favorite smell? White florals.
Least favorite smell? Cow manure.
What is always in your fridge? Jams and Champagne.
What is always on your dinner table? Chilewich placemats.
What do you think Pantone's color of 2019 should be? A well-balanced violet called "The Color of Love."
What item stresses you out if you're running low on it? La Mer moisturizer, because it's expensive.
Name a trait or talent you possess that few know about: I'm good at flower arranging and cake baking and decorating.
Who appears to have the best life on Instagram? Aerin Lauder.
Most frequently used hashtag: #blessed.
Favorite meal and where: Shake Shack and Via Carota.
Comfort food: Cheeseburger and fries; macaroni and cheese sometimes.
Comfort music: Bright Light Bright Light.
Most recently binged TV show: Sharp Objects.
Favorite spot in the entire world: Paris.
What do you foresee as the top beauty trends heading into 2019? Individuality. There are no rules. There is no longer any dictate about beauty standards. One can pursue perfection, totally reinvent themselves through glamour and artifice, or have a minimalist approach. To me, the power of makeup is that it gives people the ability to explore.
As for makeup trends, we may see a return to the use of warmer, more-neutral to brown-based lip shades inspired by the early '90s and the supermodel era. It would be the pendulum swinging in the opposite direction of all of the bold shades and classic reds that we've been seeing.
What product in your company's domain is misunderstood and should be a best seller? Our Diaphane Loose Powder compact. It's two components that need to be married together. I don't love pressed powder for setting or for blotting, because I think it has a tendency to build up. This vapor-light formula is convenient for MUAs on set, and it's convenient for consumers because it fits into an evening bag.
If you won the Power Ball tomorrow, what are the first five things you would do? (after, of course, donating the majority of it to your top charities…) Finish redecorating my apartment. Fill it with Jean-Michel Frank original furniture and original Irving Penn photography. Buy an apartment in Paris. Fill that with the same thing. But seriously, I would set up a fund to help young, entrepreneurial creatives bring their products and brands to market.