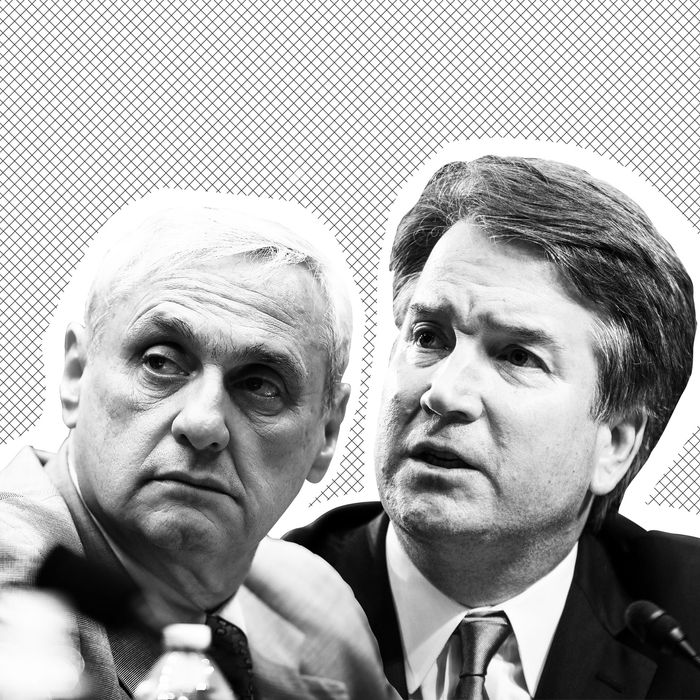 On Wednesday, for the first time, we got to hear Supreme Court nominee Brett Kavanaugh answer questions about what he knew about the behavior of Judge Alex Kozinski, his former boss who retired in December after being accused of harassment and assault by 15 women. We didn't learn much.
Knowing what was coming, Republican senator Orrin Hatch staked out sympathetic territory for Kavanaugh early in the day. "This seems to me to be an effort at guilt by association, which is not the way this committee should operate in any way," Hatch said.
Kavanaugh's response was essentially, Kozinski who? He emphasized that it had been 27 years since his clerkship for Kozinski, but did not mention that Kozinski had testified on Kavanaugh's behalf when he was nominated to the D.C. Circuit in 2006, or that Kozinski's son had worked for Kavanaugh in the past year. (Kavanaugh and Kozinksi also screened Justice Anthony Kennedy's clerks for him.)
Kavanaugh said he didn't know about Kozinski's harassment. "When I heard," he said, "it was a gut punch. It was a gut punch for me. It was a gut punch for the judiciary. I was shocked, and disappointed."
Later in the day, under questioning from Democratic senator Mazie Hirono, Kavanaugh pointed out that the ten judges who worked with Kozinski at the federal courthouse in Pasadena had apparently been in the dark about his conduct. (Judging by the Twitter feeds of Kavanaugh's backers and the subsequent rambling remarks by Senator Thom Tillis, that was a setup to allow Republicans to say that if Kavanaugh should have known about Kozinski, then Democrats should have known about Al Franken.)
When Hatch asked if Kavanaugh had been on an email list Kozinski operated in which he sent sexually explicit and sexist jokes, including jokes about getting blow jobs from 19-year-olds and killing your wife, he responded, "I don't remember anything like that, Senator."
Kavanaugh repeated the line in the afternoon, when Senator Mazie Hirono had her turn: "I don't remember anything like that," he said. Behind Hirono was a poster she'd had made with a timeline of the allegations and a giant photo of Kavanaugh affectionally clapping a hand on the shoulder of his former mentor.
What Kavanaugh didn't mention was that in 2008, the Los Angeles Times reported on the existence of the email list. Then, a year later, the Third Circuit Court of Appeals investigated and admonished Kozinski over keeping such material on a server accessible to the public. Whether or not he was on the email list, did Kavanaugh forget those things? He didn't say.
The day's proceedings left some of the women who spoke out about Kozinski — several of them lawyers, writers, or both — wanting to know more. Here are some suggested questions that law professors Emily Murphy and Leah Litman, as well as Slate's Dahlia Lithwick, would like to see Kavanaugh asked today:
Judge Kozinski said some of the things said about him are simply untrue, but didn't specify which. You said there's no reason not to believe the accusers. Do you believe Judge Kozinski, or not?

Did you reach out to anyone about the Kozinski allegations once they were public? If so, who?

Kozinski retired, which effectively ended an investigation into his behavior. Do you think there should have been an investigation?

Have you reconsidered events that you've observed in light of clearer understanding about what workplace harassment is? Looking back, do you remember things that should have been a red flag?

How have your views on acceptable workplace and professional behavior been shaped by the revelations about Kozinski and #MeToo generally?

You said the judiciary's response (including Chief Justice Roberts convening a task force) represents first steps. What are the next ones?