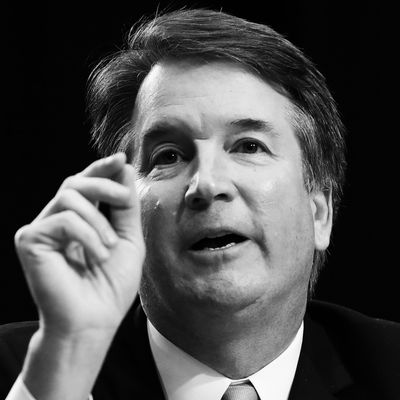 Brett Kavanaugh.
Photo: Chip Somodevilla/Getty Images
As promised, Supreme Court nominee Brett Kavanaugh has given the Senate Judiciary Committee his calendar from the summer of 1982, which he has argued would exonerate him from Christine Blasey Ford's allegation that he sexually assaulted her at a high-school party. Kavanaugh's team claims the monthly calendar pages don't show any planned house parties like the one Ford has described as the location of her alleged assault. On Wednesday, the pages finally became public, and wouldn't you know, it turns out there's no calendar listing for drunken misconduct. Weird.
Ford went public with her allegations on September 16, accusing a "stumbling drunk" Kavanaugh of pinning her down, groping her, and attempting to disrobe her at a summer house party in Maryland when she was 15 and he was 17. She also alleges that his friend, conservative writer Mark Judge, was in the room at the time. "I thought he might inadvertently kill me," she told the Washington Post of Kavanaugh. "He was trying to attack me and remove my clothing."
One week later, in a report published by The New Yorker, Deborah Ramirez accused Kavanaugh of sexual misconduct at a dorm party their freshman year at Yale, during which they were both allegedly playing a drinking game. The same night Ramirez's allegations came out, Stormy Daniels's attorney Michael Avenatti published a series of tweets implicating Kavanaugh and Judge in a pattern of teenage sexual assault.
In a Monday night interview with Fox News (and with his wife, Ashley, by his side), Kavanaugh denied the allegations. He painted a picture of himself as a good kid that never got into trouble — and also said that he was a virgin during high school and for years later (even though neither Ford nor Ramirez claimed to have had sexual intercourse with him). "When I was in high school, and I went to an all-boys Catholic high school, I was focused on academics and athletics, going to church at Little Flower," he told Fox News, adding that he was also focused on "friendship." He further denied ever drinking to the point of blacking out.
But Kavanaugh's college classmates have disputed the "choir boy" picture the judge has painted; he has been called a "sloppy drunk" by one friend, and his former freshman year roommate said in a statement that he saw Kavanaugh "frequently drinking excessively and becoming incoherently drunk." On top of that, Judge's ex-girlfriend of three years, Elizabeth Rasor, told The New Yorker that the high-school parties the pair attended weren't as wholesome as they'd have you think.
So, what does Kavanaugh's meticulously kept calendar show us? Well, he definitely didn't write that he was planning on getting wasted at a party and sexually assaulting anyone, that's for sure. But he does list "Beach Week" vacations, various parties, several hangouts with Judge, going to see "Grease 2" and "Rocky III," and other teenage activities, like college interviews and going to the library. On July 1 — an arguably warm day in the summer — he also listed going to "Timmy's" for "skis" with Judge and others.
It's unclear what "skis" might mean, but we can only assume he wasn't going skiing. There were also a few days that summer with nothing listed at all, or his only activity was cited as "Lift." So there are still gaps in his schedule, which means the calendar doesn't definitively disprove Ford's claims.