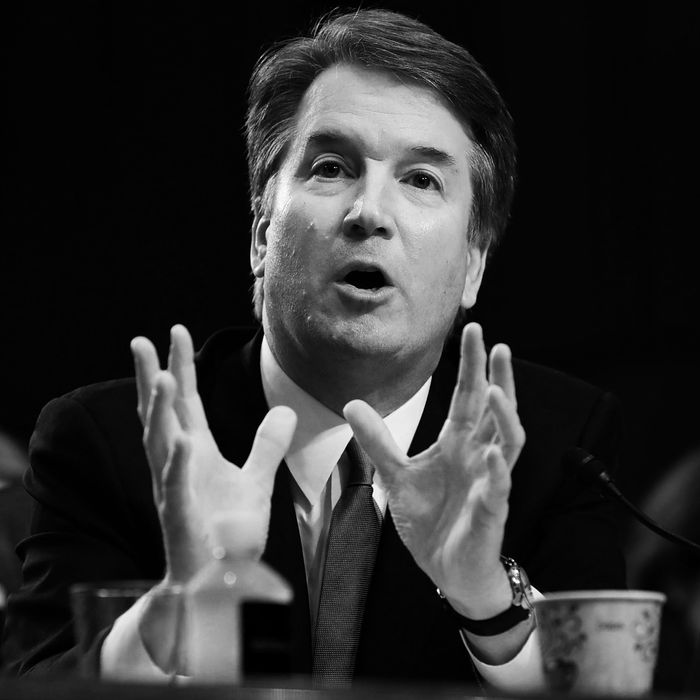 Brett Kavanaugh.
Photo: Chip Somodevilla/Getty Images
It's only been two weeks since the public first learned about the letter Professor Christine Blasey Ford sent Senator Dianne Feinstein, in which she claimed that Supreme Court nominee Brett Kavanaugh had sexually assaulted her when they were both in high school, and she was around 15 years old. According to her account, Kavanaugh and his friend, Mark Judge — who were both "stumbling drunk" — trapped her in a room at a party, where Kavanaugh held her down on the bed and tried to undress her.
"I thought he might inadvertently kill me," Ford told the Washington Post. "He was trying to attack me and remove my clothing."
On Sunday, the New Yorker published the allegations of a second woman, Deborah Ramirez, who claims that in college, Kavanaugh exposed himself to her at a party.
Kavanaugh has "unequivocally" denied the allegations, and in the days since it first came to light, he and his supporters have experimented with a number of different lines in an attempt to exonerate him, ranging from flat-out denying that Kavanaugh was at the party in question, to releasing a letter from two of his ex-girlfriends who insist he's always been nice to them, to the classic evil twin theory.
Let's take a look at what we've heard so far:
The Denials
On Friday, September 14, The New Yorker published a report by Ronan Farrow and Jane Mayer which outlined the specific claims against Kavanaugh, but did not reveal the identity of his accuser. Kavanaugh denied these claims, telling The New Yorker, "I categorically and unequivocally deny this allegation. I did not do this back in high school or at any time."
He issued another denial on Monday, after Ford came forward as the author of the letter, writing:
This is a completely false allegation. I have never done anything like what the accuser describes — to her or to anyone. Because this never happened, I had no idea who was making this accusation until she identified herself yesterday. I am willing to talk to the Senate Judiciary Committee in any way the Committee deems appropriate to refute this false allegation, from 36 years ago, and defend my integrity. 
The "Some of My Best Friends Are Women"
Hours after The New Yorker report came out, Senator Chuck Grassley shared a letter sent to him by 65 women who went to high school with Brett Kavanaugh, in which they said that in the 35 years they've known him, "he has behaved honorably and treated women with respect."
When Politico reached out to the women on Monday, a day after Ford came forward, only seven confirmed that they still stand by Kavanaugh.
The "I Wasn't Even There"
On CNN on Monday, Senator Orrin Hatch insisted that Ford is "mistaken," adding, "I talked to [Kavanaugh] on the phone today … [he said] he didn't do that, and he wasn't at the party. So, you know, clearly, somebody's mixed up."
As the Washington Post points out, it seems odd that Kavanaugh could make this claim, given that Ford didn't specify when or where the alleged attack took place.
The Mauras
Later on Monday, two of Kavanaugh's ex-girlfriends — Maura Kane, who dated him in high school, and Maura Fitzgerald, who dated him in college — issued statements vouching for Kavanaugh's character.
"He always conducted himself honorably with me at all times when we were together," said Maura Fitzgerald.
"In every situation where we were together he [was] always respectful, kind, and thoughtful," wrote Maura Kane.
The "Rough Horseplay"
On Tuesday, Carrie Severino, spokesperson for the Judicial Crisis Network — the organization that runs the campaigns for Republican judicial nominees — said on CNN that Ford's allegations "cover a whole range of conduct, from boorishness, to rough horseplay, to actual attempted rape."
She goes on to say, "[Ford] is certainly implying that it's attempted rape […] I'm saying the behavior she describes could describe a whole range of things."
The Evil Twin
Perhaps the most stunning theory in this case, and maybe ever, came on Tuesday, when Kathleen Parker wrote an op-ed for the Washington Post titled "Is there a Kavanaugh doppelganger?" which posits that Ford was attacked by someone that night, but it wasn't Kavanaugh, it was just someone who looked like him.
"As crazy as that sounds, it wouldn't be unheard of. And, given the high regard in which Kavanaugh has been held throughout his life, including during high school, it would make the most sense," Parker wrote.
Would it?
The Virgin
During a Fox News interview the day after a second woman, Deborah Ramirez, came forward with allegations of sexual misconduct against him, reporter Martha MacCallum asked Kavanaugh about Michael Avenatti's tweets in which he suggests that Kavanaugh and his alleged accomplice in the attack on Ford, Mark Judge, participated in gang rapes while in high school. Kavanaugh called the claims "totally false and outrageous," saying that he was a virgin in high school for many years after.
"When I was in high school, and I went to an all-boys Catholic high school, I was focused on academics and athletics, going to church at Little Flower," he said. "I did not have sexual intercourse, or anything close to sexual intercourse, in high school or for many years thereafter."
As many people pointed out, however, being a virgin has nothing to do with Ford or Ramirez's accusations.
We will continue to update this post as more excuses get trotted out.