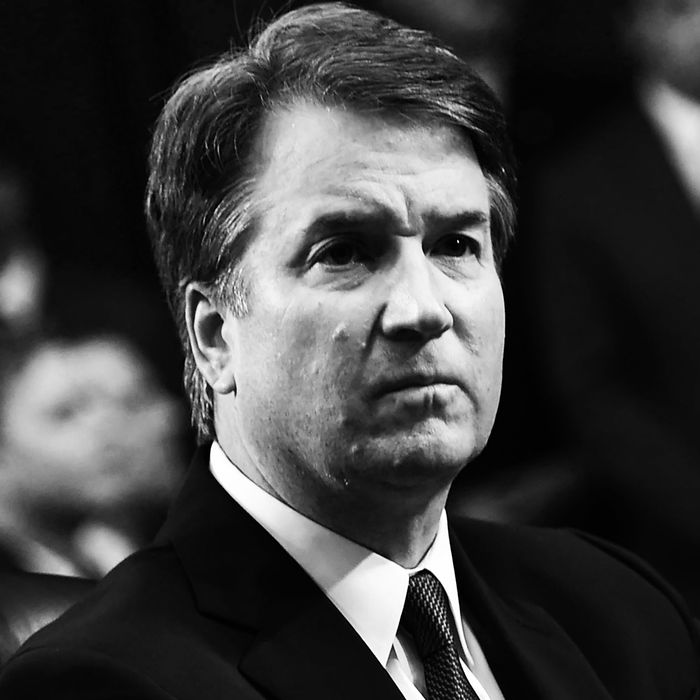 Brett Kavanaugh.
Photo: BRENDAN SMIALOWSKI/AFP/Getty Images
It was reported last week that Senator Dianne Feinstein had received a letter from a constituent detailing alleged sexual misconduct by Supreme Court nominee Brett Kavanaugh during his high school years. His accuser, Christine Blasey Ford, went public with her story on Sunday in an interview with the Washington Post, and now, the text of her letter to Feinstein has been published by CNN.
The harrowing letter, a redacted version of which was read to CNN by a source, echoes the claims Ford made to the Post. In the letter, dated July 30, 2018, Ford writes of her desire that the allegation be kept confidential until she and Feinstein actually speak, before stating that Kavanaugh "physically and sexually assaulted me during high school in the early 1980s." The letter reads in part:
The assault occurred in a suburban Maryland area home at a gathering that included me and four others. Kavanaugh physically pushed me into a bedroom as I was headed for a bathroom up a short stair well from the living room. They locked the door and played loud music precluding any successful attempt to yell for help.
The letter continues: "Kavanaugh was on top of me while laughing with REDACTED, who periodically jumped onto Kavanaugh. They both laughed as Kavanaugh tried to disrobe me in their highly inebriated state. With Kavanaugh's hand over my mouth I feared he may inadvertently kill me."
Ford closes her letter by explaining to Feinstein that she notified her local representative in early July to ask how to proceed with reporting this information. "It is upsetting to discuss sexual assault and its repercussions, yet I felt guilty and compelled as a citizen about the idea of not saying anything," she writes.
Kavanaugh has denied Ford's allegation. "I categorically and unequivocally deny this allegation," he told the Post. "I did not do this back in high school or at any time."
Read the full letter here.