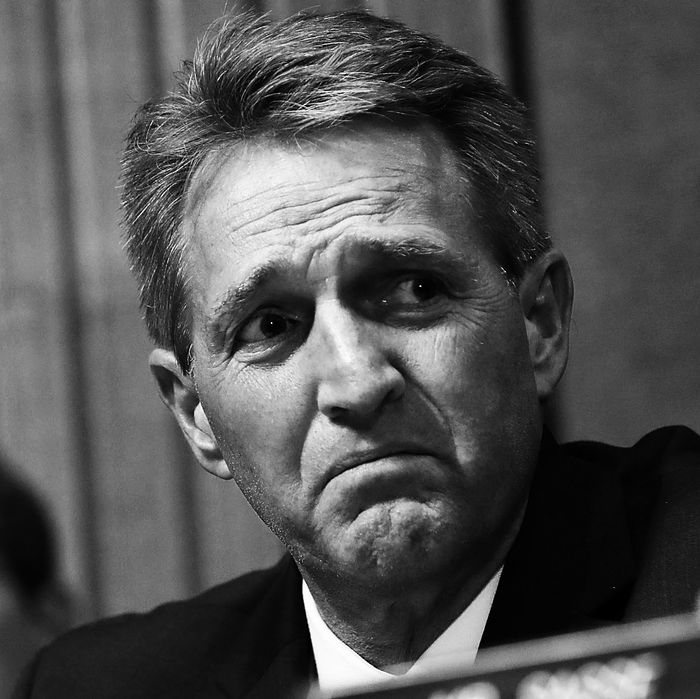 Senator Jeff Flake.
Photo: Win McNamee/Getty Images
Republican senator and Senate Judiciary Committee member Jeff Flake of Arizona, a key vote in Brett Kavanaugh's nomination to the Supreme Court, announced on Friday morning that, while he found Christine Blasey Ford's heartbreaking testimony about sexual assault "compelling," Kavanaugh's was "persuasive." Therefore, he will be voting yes.
"While some may argue that a different standard should apply regarding the Senate's advice and consent responsibilities, I believe that the constitution's provisions of fairness and due process apply here as well," he wrote in a statement. "I will vote to confirm Judge Kavanaugh."
On Thursday, Ford sat poised in front of the Senate Judiciary Committee and recounted what she considers to be one of the most traumatic days of her life: when Kavanaugh allegedly held her down and attempted to rape her at a party in 1982, while the two were in high school. Hours later, Kavanaugh would sit in the very same seat, where he delivered a testimony that was petulant, indignant, and belligerent. It was enough to win over Flake, whose vote means that Kavanaugh has the necessary support to be reported favorably by the panel.
In a statement, the senator writes that he left the hearing "with as much doubt as certainty," and decried the lack of corroborating evidence — even though it was the Committee's own fault that no one else was called to testify, including Mark Judge, Kavanaugh's alleged accomplice and the key witness in the Ford allegations. In fact, Flake voted against subpoenaing Judge on Friday.
After news of Flake's decision broke, sexual-assault survivors confronted the senator in an elevator on his way to the committee vote, where they berated him for ignoring the cries of women and survivors.
"I was sexually assaulted and nobody believed me. I didn't tell anyone, and you're telling all women that they don't matter, that they should just stay quiet because if they tell you what happened to them, you're going to ignore them," one woman yelled. "That's what happened to me and that's what you're telling all women in America; that they don't matter, they should just keep it to themselves, because if they tell the truth you're just going to help that man to power anyway."