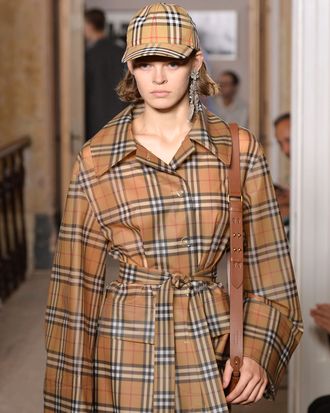 Burberry.
Photo: Jeff Spicer/BFC/Getty Images for The British Fas
On the second day of fashion month, Burberry gave to me … a resolution to stop destroying its unsold products and a ban on fur. Following a wave of bad press for destroying £28.6 million worth of unsold product last year, the company has decided to instead recycle, reuse, repair, or donate items which they deem "unsaleable." They may however dispose of cosmetics that cannot be recycled.
As pointed out in the press release, it's an intuitive move as Burberry is a partner in the Make Fashion Circular Initiative, headed by the Ellen MacArthur Foundation. A circular fashion system involves turning old clothes into new clothes to minimize waste, which is hard to do if product is destroyed.
"We think that modern luxury that doesn't take into account the social and environmental responsibility really has no meaning," Burberry CEO Marco Gorbetti told Business of Fashion. "It's an important belief that we have in the company."
Burberry is far from the only brand that has destroyed product before in order to protect brand value and intellectual property. Last year it was revealed that H&M burned unsold clothing with coal in Sweden. Richemont, which owns Cartier and Piaget, also reportedly destroyed expensive watches.
It is also is not the only brand to recently ban fur — a positive trend in the fashion industry. In the past year, Gucci and Michael Kors have also decided to stop using fur. Burberry's new policy will outlaw fur and Angora, starting with the highly anticipated spring 2019 collection showing this month — the first from new creative director Riccardo Tisci.