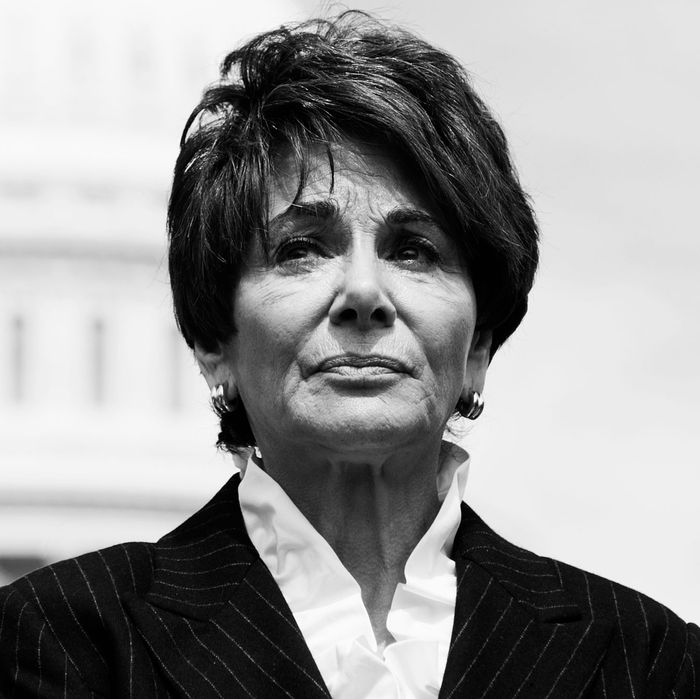 Representative Anna Eshoo.
Photo: Tom Williams/CQ-Roll Call,Inc.
California Representative Anna Eshoo was the first lawmaker who met with Christine Blasey Ford about her sexual assault allegations against Supreme Court nominee Brett Kavanaugh. She met with Ford on July 20, months before Ford's letter or identity would become known to the public.
In an interview with the Washington Post, Eshoo shared details of that first meeting, saying that her conversation with Ford was the first time the two had ever met. Eshoo described Ford as "terrified," and that during the 90 minutes they talked Eshoo became convinced of her credibility.
"It was more than obvious to me that she bore the scars of what she had been subjected to," Eshoo told the Post. "She doesn't have a political bone in her body. And she obviously was really terrified about what could become of her and her family."
Eshoo also expressed her support for Ford, who declined to testify at a public hearing about the allegations until the FBI has completed an investigation into her claims. The request has so far been denied, and Ford was given a deadline of September 21 to decide if she will testify.
"At the end of the meeting, I told her that I believed her," she added. "In telling her story, you know, there were details to it, and I believed her."
Eshoo told the Post that her office respected Ford's desire to remain anonymous, and worked hard to protect her identity. She said that both she and Ford decided to share the letter with Senator Dianne Feinstein. Eshoo also declined to criticize Senator Feinstein for the subsequent leak of information.
"I don't know what took place in the intervening weeks," Eshoo said. "But I can say that I think that once there was a leak, that my constituent's fears were being confirmed. And it is an enormous act of courage understanding the risks that would come her way, she decided to tell her story and not have others mischaracterize it."
In the time since her identity has been revealed, Christine Blasey Ford has faced scrutiny from high-ranking lawmakers, personal attacks from conservatives, and was sent death threats that forced her to move out of her family out of home and hire private security.