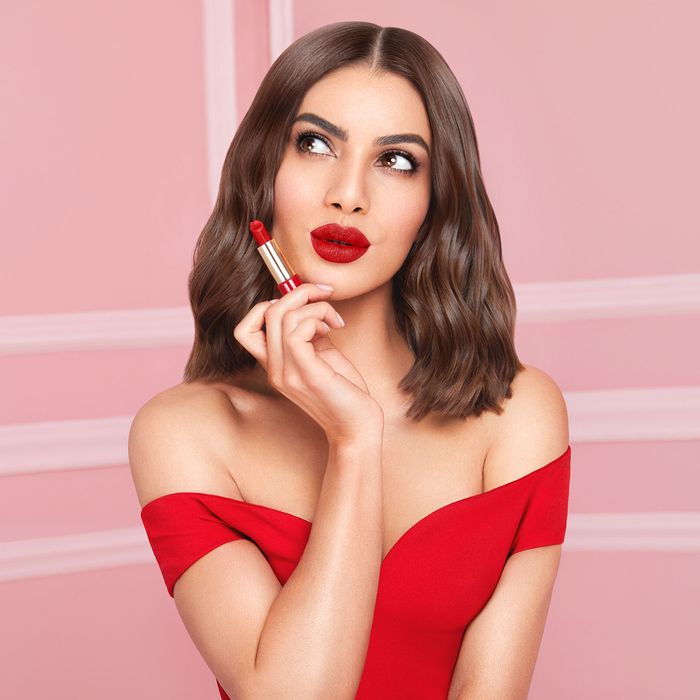 Photo: Courtesy of Lancome
Global super influencer Camila Coelho is known for her jet-setting, her street style, and her perfectly executed selfies, so it's hard to remember that she got her start behind a beauty counter at a Massachusetts Macy's. Coelho went from in-store Dior makeup artist to extremely popular beauty vlogger, and over 7 million followers later, became the lifestyle trendsetter she is today. Things came full circle last week when she launched L'Absolu Rouge x Camila Coelho, a limited-edition collection of Lancôme lipsticks that is a testament to her beauty expertise. With the help of Lisa Eldridge, Lancôme's creative director, Coelho created ten lipsticks inspired by her wanderlust, Brazilian heritage, and longtime love of a statement lip. The Cut caught up with Coelho before New York Fashion Week to discuss her first collection, matte versus satin, and what beauty tutorials the kids want these days.
You recently posted on Instagram about choosing paint swatches for your apartment in Brazil. How did choosing ten lip colors for your collection compare? Was it easier? Harder? Surprisingly the same?
Décor is so much harder, it's crazy. I really need help. You look at a color and put it on the wall and it's completely different. For me personally, lipstick was a lot easier. When I went to the [Lancôme] lab to pick the colors, I already had exactly what I wanted in mind, so it was more about choosing finishes. It's a process — you have to put a little bit of this and that to get the exact color you're envisioning, but for me it felt easy. Choosing paint was a struggle — good thing I didn't do a décor collaboration.
How did you decide which shades would be matte and which would have a satin finish?
I originally had the idea of doing half matte, half satin. When collaborating with a brand, it needs to have a mix of your own DNA and the brand's as well. Lancôme's signature lipsticks have cream finishes, which I love because they have such strong pigmentation. When you have a really bold red or bright pink, that shiny, cream finish makes it stand out even more, so people tend to feel more comfortable wearing those shades in matte. We focused on making the three boldest colors — the red, the purple-pink, the coral — matte. The other seven colors are more versatile, everyday colors. You don't really want a matte for everyday so we made those satin.
You got to work with Lisa Eldridge on this limited-edition set. Did she have any advice for you as another makeup artist known for her YouTube videos and social following?
We had met before, so going to the lab with her was very special; we really bonded. I felt even more confident creating these colors because she was there cooking them with me. She definitely gave me advice on the spot, like Maybe we shouldn't do a red with such a pink undertone, things like that. We always ask each other questions because what we do is so similar but so different at the same time. I'm inspired by people like her who are humble and good-hearted, even when in important positions.
She actually inspired me in a more literal way. I didn't tell her this yet, but one of the nudes I created was actually inspired by this great, everyday nude shade she was wearing when she arrived to the lab. That inspired me to create Last Minute, a nude with a coral undertone to it.
A lot of YouTube tutorials are borne out of viewer requests. Have you been getting requests for one thing in particular lately?
Wet lid looks. People are looking for those a lot and I think I know why. It's a mystery. They look at the eye and think, okay, yes this is beautiful, but it's wet. It's glossy. How is it going to stay on? So I just did a tutorial on that. Another is the single bright shadow look, which is so fun. I shot a video for it, but I haven't uploaded it yet.
Is there a beauty or fashion trend that you're loving right now? Is there one you're worried will come back? (Like skinny brows?!)
For fashion, I'm loving clear accessories — the shoes, the bags. The biker shorts, I'm really digging. I know a lot of people don't, but I love them and I'll be wearing them during Fashion Week. It's cool and comfy but can also be fashion-forward.
For makeup, I'll be wearing wet lids and bright shadows a lot for the next month or two. And bold lips. They are forever on-trend for me. With beauty, I'm never scared of trends because I feel like you can adapt any trend to your face and to your style. But if I do think of something scary, I'll let you know.
On to Instagram: What are the best places to put your hands/arms when you're posing? People never know what to do with them…
It's true. I'll tell you my secret: I don't even know. I just keep moving to make it look as natural as possible. If you want to look slimmer, place your hands right on top of your waist with your fingers right in front. But that's being super pose-y. On an everyday photo, I'll put my hand on my hair, on my face, on my shoulder, everywhere. I just keep moving and hope for the best.
You're also known for traveling a lot which to me, means you're probably a great packer. What products go everywhere with you?
If you saw what I bring for beauty and skin care alone, you'd be like Oh my gosh, why do you bring so much? It looks like a lot because I like to separate it all. So I have small bags — okay, medium-sized bags: One for makeup, one for skin care, and one for hair. The skin-care bag is the most important to me because traveling is when your skin is screaming, "Help me, God" the most.
For essentials: I always bring some type of hydrating mask, foundation, a nude lipstick, a bold lipstick (usually a red), and a bronzer. I'll never travel anywhere without a bronzer because it's so versatile; it can work as blush or contour. I always bring two foundations if I'm going somewhere I'm not familiar with: A glowy, hydrating one that works for dry weather and one with a matte finish that works for humid weather, like Lancome's Ultra long wear. Lastly, texturizing volumizing spray for my hair. It's super thin so it saves my life.
Last but not least, I read that you lived in Scranton, PA, for a time, so I have to ask: Do you watch The Office? 
[Laughs] I've watched some episodes, but it was never my No. 1 favorite show. But I always use it as a reference so people know where I'm talking about when I say Scranton. Scranton, man.
Photo: Courtesy of the Retailer
If you buy something through our links, New York may earn an affiliate commission.