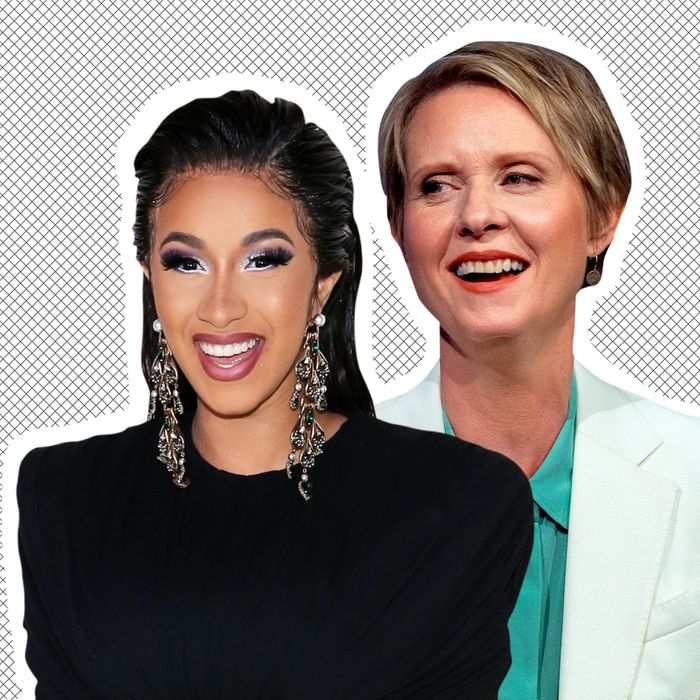 Cardi B, Cynthia Nixon.
Photo: Getty Images
The New York state primary election, already one of the most exciting in recent memory, has now become part of the Empire State's premier rap beef.
The night before the election, Queens native Nicki Minaj sent out a tweet endorsing incumbent Governor Andrew Cuomo, Lieutenant Governor Kathy Hochul, and attorney general candidate Letitia James. "They know how to work for the people to make NY even GREATER," she wrote. "Spread the word. See you at the Polls." (I demand Governor Cuomo exercise full transparency and make his favorite Nicki verse public immediately.)
In light of their ongoing feud, many wondered if Cardi B would come forward to endorse the Cynthia Nixon–Jumaane Williams–Zephyr Teachout ticket. Teachout, who is pregnant, even briefly tweeted and deleted: "I was in awe of @iamcardib dancing and performing while seven months pregnant at Coachella. Pregnancy is not a handicap. Motherhood should not be a barrier to success."
On Thursday evening, a few hours before the polls closed, we got our answer: the Bronx-born rapper endorsed Nixon and Williams on Instagram. "Polls close around 8PM .NEW YORKERS VOTE NOW !!!!!! #cynthia#jumaane," she wrote beneath a photo of the two.
A great time to revisit that video of Bernie Sanders saying "Cardi B is right."