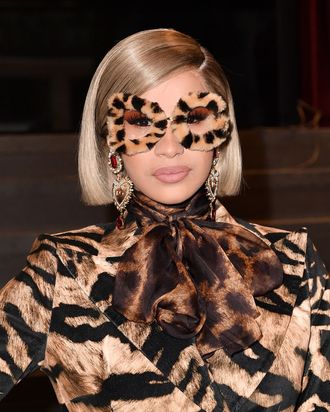 Cardi B.
Photo: Jacopo Raule/Getty Images
Ever since Cardi B's dramatic altercation with Nicki Minaj during New York Fashion Week — an encounter that left Cardi with a large bump on her forehead — the musical artist has been noticeably absent from the front row. Minaj, meanwhile, bounced right back and was spotted just a few days after the fight at Opening Ceremony's drag show. During Milan Fashion Week, she sat front row at Versace as well.
Finally, though, Cardi made an exuberant return to fashion month on Sunday afternoon at the Dolce & Gabbana spring 2019 show, where she was seated next to Stevie Wonder and Liam Payne of One Direction.
It's hard to stand out in the Dolce & Gabbana crowd, with everyone wearing pounds of sequins, loud prints, and even tiaras, but Cardi was instantly recognizable in a leopard-print trench with matching leopard-print boots and furry sunglasses. On Instagram, she described the look as an ode to actress Fran Drescher of The Nanny.
"What's good bitch! We out here in Milan drinking sparkling water and eating some spaghettis," Cardi says with a laugh, in an Instagram video filmed on her way to the show. Clearly, she was in good spirits (despite the fact that Minaj had been in the city a few days earlier), and there was no bump to be found on her forehead. "Dolce & Gabbana want all my shmoney!" Cardi said admiringly of her look, adding: "Man, these Italians got me fucked up giving me champagne in the afternoon. They must not know that I'm light."
Watching Cardi B watch a fashion show is a delight in and of itself. She just loves clothes, and will squeal and point when she sees something in particular that she likes. Luckily for everyone involved, Dolce & Gabbana gave her a lot to get excited over this season. Iconic supermodels including Monica Bellucci, Carla Bruni, and Helena Christensen opened the show to huge rounds of applause. The collection's theme was "DNA," so the brand invited all its favorite families, couples, and scions to walk the runway, including Pamela Anderson's son, Brandon Thomas Lee; Jude Law's son, Rafferty Law; and Princess Diana's niece, Lady Kitty Spencer. Stevie Wonder's son, Kailand Morris, closed the show.
In another Instagram video shot backstage afterwards, Cardi gave the collection her signature seal of approval: "Okurrr!"