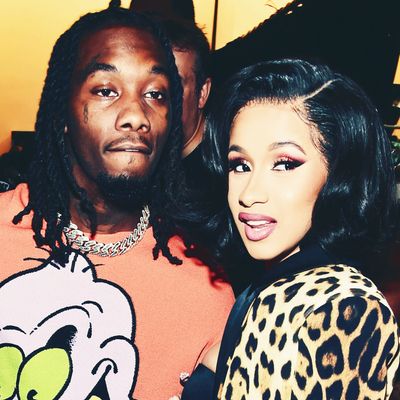 Offset, Cardi B.
Photo: Theo Wargo/Getty Images for NYFW: The Shows
The holy union of Cardi B and Offset has remained shrouded in mystery. Cardi confirmed this summer that the couple had a secret marriage last September — a month before Offset officially proposed to her onstage with a massive eight-karat diamond. And now, one year later, she has finally shared an exclusive photo from the event, for all us "lil nosey fucks" out there.
Cardi's #TBT shows the couple holding hands inside a house, presumably, as TMZ reports, inside her bedroom. It was an intimate ceremony, with Cardi in a tracksuit and Offset in jeans and a hoodie, and a woman standing by to officiate. According to TMZ, the couple got a marriage certificate in Fulton County, Georgia, the same day.
With baby Kulture, the much-acclaimed Invasion of Privacy, and a new feud with that other queen of rap, it's been quite a year for Cardi.