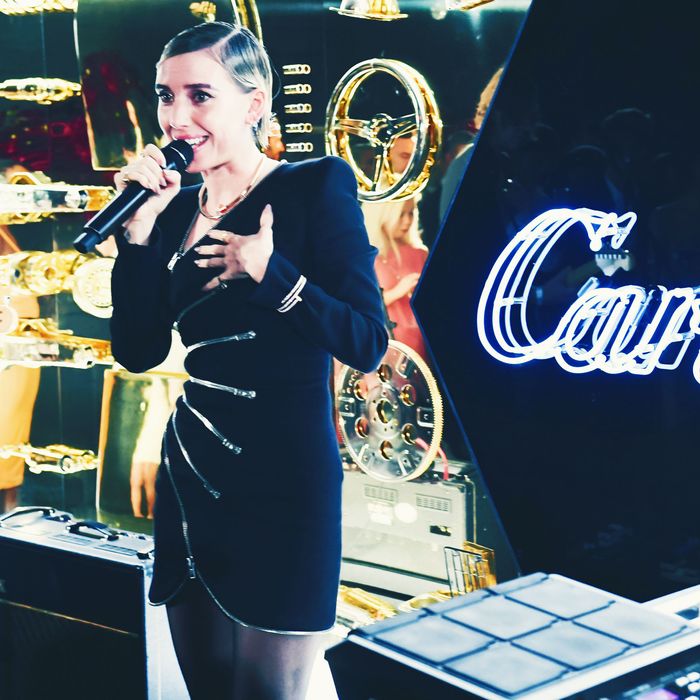 Lykke Li.
Photo: Billy Farrell David X Prutting/REX/Shutterstock
The garage as the epicenter of giddy, mischievous activity is a cliché in TV shows, John Hughes movies, and start-up culture. It's where Cameron's dad kept his red Ferrari and where Steve Jobs founded Apple, and it was the concept for Cartier's Juste Un Clou Precious Garage party last night, held (where else?) at the Cartier mansion. Guests were greeted by an abstract car sculpture and served crudité with hummus out of metal cans. The Cartier Champagne flowed in mini glass bottles that felt oddly like the ones Miller High Life comes in — perfect for a high-end riff on a down-and-dirty hangout.
Underneath cut-outs of hammers, wrenches, and pliers, the new Juste un Clou collection glimmered in glass cases. The Cut found Justin Theroux Instagramming the jewelry and tried to chat him up, but was shut down by his publicist, who admitted, "I know you hate me." Lily Collins glimmered in a red dress that went very will with Nicky Rothschild Hilton's sparkly sliver one. Elizabeth Chambers matched the red-clad bell-hops in a red gown. They stood out as beacons of glamour against the sea of people who had recently witnessed a torrential downpour in Midtown Manhattan.
The night's performer, Lykke Li, proved herself to be a true professional when the mic cut out after two songs. Clad in a black dress with exposed zippers, the singer remained on the stage, talking to fans and taking selfies until the power turned back on. In retrospect, it was authentically garage band-y. Toward the end of the night, waiters rolled out tool chests of dark chocolate in the shape of pliers, nuts, and bolts. Downstairs, close to the exit, were burgers and fries in gold packaging — the perfect party favor.
See the scene below.