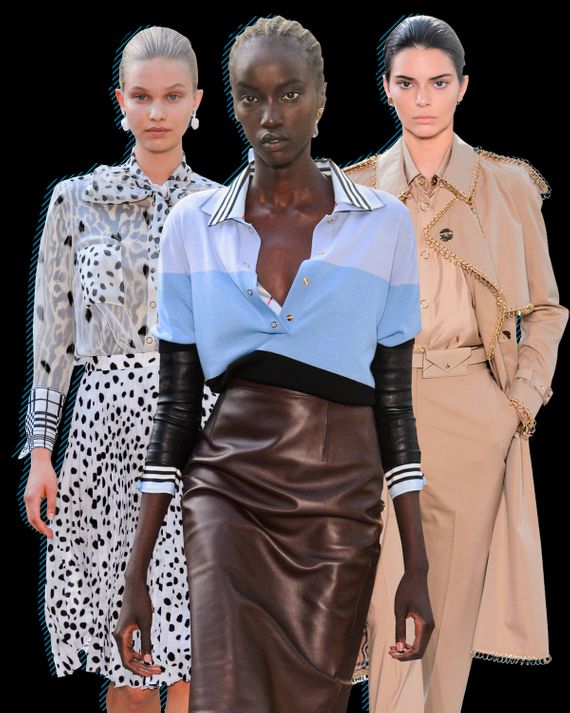 Photo: Imaxtree. Illustration: Lauren Tamaki
Perhaps the most telling thing about Riccardo Tisci's first show for Burberry was its location: amid the new apartment complexes and construction cranes rising along the south side of the Thames. The new U.S. Embassy, an eco-friendly cube by the firm Kieran Timberlake with a shimmery facade that resembles a grid of sails, was next door to the Burberry site, an old postal center.
Inside, the space had been transformed into something like a sleek office lobby or hotel, with beige seats and carpeting, and wall panels in wood, glass, or metal that, once activated, closed off portions of the audience so that viewing the clothes became, in effect, a more focused business. Oh, and there were no celebrities causing the usual pre-show hubbub.
It was very sober and grown-up, a world away from the creative high jinks and familiar venues — Mayfair galleries, stately government buildings — that characterize London Fashion Week. And, yes, the clothes were a tiny bit dull.
But in most respects this show boldly reflected several realities. Firstly, that London has changed dramatically in size and wealth in the 18 years since Tisci's predecessor, Christopher Bailey, and former chief executive Rose Marie Bravo resurrected a humble English raincoat maker. Secondly, that Burberry has wide appeal, with annual sales of nearly $3 billion and $10 billion in market capitalization. Thirdly, that the high-fashion industry suffers from talking to itself — to insiders, to celebrities — and not to the big teeming world which will be filling up those apartment towers.
Tisci opened the show with the sort of conservative dressing — pleated knee-length skirts and pussy-bow blouses — that is all but ignored on the runways. He also offered sun-ray skirts in beige silk and slim leather skirts with polished knit polo shirts, pleated trousers with knits, and scarf prints in Burberry's classic colors, mix-and-match animal prints, and some coat ensembles that almost looked "mother-of-the-bride." But the reality, as Tisci knows, is that lots of women have the lifestyle for tasteful clothes like these. He also offered a conservative Burberry look for men, then shifted to a younger, punk-infused style for both sexes.
"That's what fashion should be" for many people, Tisci said to reporters backstage. "You can dress the mother, dress the daughter. We have so many stores. Why give just one identity?" He also said that while Burberry's early history of making gear for the military and for the outdoors appealed to him, he also wanted to show that the "brand represents a very big part of British style."
That meant classic tailoring and the kinds of sporty-elegant clothes, like those pleated trousers and the pleasing silk prints, that a woman might wear (I imagine) for a weekend at someone's country house. And Tisci played everything straight. There was not a lick of irony in the show — no wink at the British and their love of a sensible cardigan or the monarch's attachment to headscarves. Tisci, who first came to London at age 17 to attend Central Saint Martins, has clearly been studying people here.
Given the edginess he brought to Givenchy — the initial Goth darkness, the provocative street styles for men — it may seem surprising that he took this approach. He largely left the iconic Burberry trench coat alone, apart from edging one version (worn by Kendall Jenner) with tiny chain and showing a few others with a wide stretch belt, based on a corset he found in the archive. The more youthful segment of the show, which included baby-doll dresses, puffball skirts, thick-soled Mary Janes, and shirts and coats with Sex Pistols allusions, drew lightly on England's former subcultures. Forty years on, this is punk cleaned up with just a whiff of outrage for the luxury masses.
It may well be that this blunt highlighting of "product," as Tisci's boss, Marco Gobbetti, put it when I saw him after the show, reflects the fact that Tisci has only been on the job five months. That's not a lot of time to get your head inside a company as big as Burberry, so it's easier to focus on key categories and themes. Certainly this collection needed more heft in the accessories; one should be able to feast on the bags, shoes, and quirky jewelry, as people did at Celine, which Gobbetti formerly managed. There wasn't enough stuff, in my view, that whetted the appetite.
Tisci is not Bailey, who had an unmatched feeling for Englishness, from its poets to its landscapes. It came naturally to him. But it must also be said that Bailey knew when it was time to let go of his charming riffs on English dressing and embrace a more global, sometimes gaudy view of Burberry, especially via the trench. And look how far he took the brand as a result.
So the next chapter begins. Time will tell if Tisci is truly committed to this broadband approach to Burberry and how well he can read the England of today.