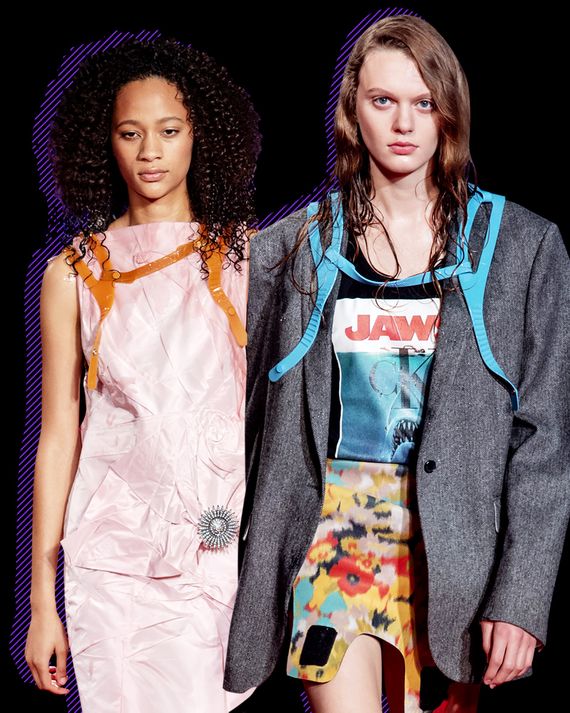 Photo: Imaxtree. Illustration: Lauren Tamaki
The first thing that greeted guests last night at Calvin Klein, aside from the blond locks of Giants receiver Odell Beckham Jr., was the blue ocean. On the walls of the company's show space at West 39th Street were wide panels depicting the sea with a spit of land in the hazy distance. One guest wondered if it might be the lagoon at Venice.
Nice thought, but the designer Raf Simons had other ideas — which soon became clear with the familiar thump of John Williams's score.
Jaws!
Is there no place on Earth in which we are safe from the fish classic, which first aired to fright and delight in 1975 and seems to run at least once a month on cable? I was a little surprised that Simons had chosen such a familiar film to reference in this collection. There were tank tops with images based on the movie's poster and tie-dye splotches that looked like bloody shark bites. The opening looks involved the upper portion of a wet suit converted into a mini (with a fashion print on the reverse side) and a black sleeveless version with full legs treated as a sleek onesie or "second skin."
Simons has a well-known affection for the movies — show notes for this collection also referred to The Graduate. Last season, when he flooded the runway with popcorn and recreated a portion of a rustic barn, he alluded to Todd Haynes's 1995 movie Safe, about a housewife who inexplicably develops physical reactions to the environment. Although the portent of disaster seems a somewhat newer theme for Simons — and understandable, given the obvious effects of climate change alone — he's always been interested in youthful rites of passage. So The Graduate makes a certain sense, right down to the leopard print drawn from Mrs. Robinson's slip.
But from an American perspective, the choice of both flicks felt a little trite. They're overused as images of greedy society or generational conflict or lurking disaster, and the Jaws score is so familiar by now that it mostly has comedic value. And Simons has done the juxtaposition of beauty and disaster before in his so-called "American horror" collection for spring 2018, with its unsettling car-crash images.
This collection focused mainly on a single shift dress style. Compared to Simons's first three shows for Calvin Klein, that meant there was a dearth of variety, but if anything, it was refreshing: Runway shows have become stuffed with products, and if that's not enough to hold your attention for ten minutes, there's often musical performers and food treats, too. (Simons is a bit guilty of this himself, given the carpeting of popcorn at this show and the Dutch masters–style feast laid out at one of his recent Raf Simons men's shows.)
The shift was rendered in a variety of prints (also solids like pale pink and black) that lightly evoked classic American party frock materials. They were also crushed or crumpled, as if from a night of sex on a beach. Some versions appeared to be no more than a tunic with a few straps at the side, presumably so you could layer them over a bathing suit. Or whatever you wanted: The looseness of interpretation, along with the texture and the whiff of nostalgia, made them appealing.
Some of the dresses also featured a delicate ornament at the neck, falling toward the breasts. Depending on how you saw the tape-like piece, it could be a bit of kelp or a harness. For me, it brought to mind a lacy contraption that Helmut Lang showed under semi-transparent shifts in the mid-'90s. When I asked Lang if the harness was meant to suggest a bra pulled above the boobs, he refused to say. He said I could see it however I wanted.
That, in essence, is my problem with Simons's latest collection: It relies for its substance or "meaning" on his stated cues, whether that's a movie reference or a printed quote from Andy Warhol about movies versus reality. Of course, designers have been supplying explanatory material (or chatting with reporters) for years. But their thought process or aim is generally clear to me during the show. And with Simons, nine times out of ten, you feel an emotional pull from his shows.
I can think of only a few designers — Martin Margiela, Rei Kawakubo, and Lang come first to mind — as capable as Simons of saying a lot with their fashion. Last season's show delivered a big wallop of hope and youthful adventure. This time, however, I just felt confused.