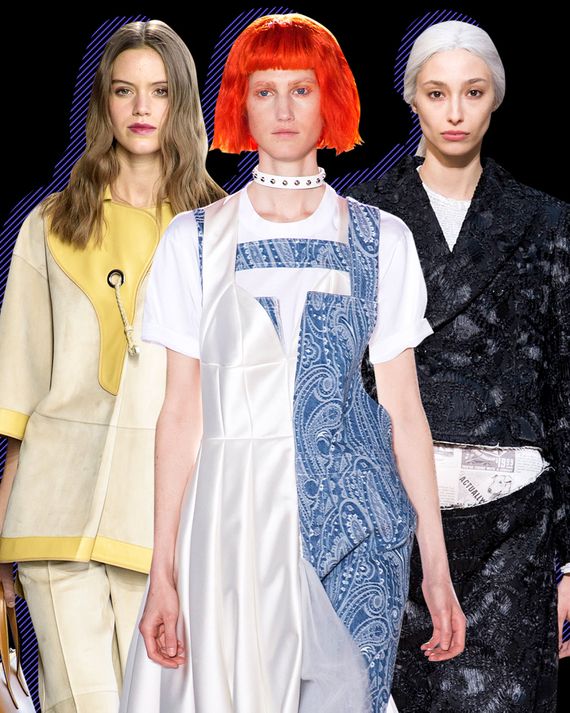 Photo: Imaxtree. Illustration: Lauren Tamaki
In a sense, all trailblazing fashion is personal. There are pictures of Coco Chanel wearing the striped sailor shirts that she turned into high fashion after World War I. Yves Saint Laurent's incorporation of friskier styles like the baby-doll dress and the see-through blouse into couture in the mid-late '60s, which liberated him and his young clients from the dreary establishment, was inspired in part by the girls he saw on the streets of the Left Bank where he lived.
Of course, one would have to count Rei Kawakubo, the founder of Comme des Garçons and the subject of a recent exhibition at the Met's Costume Institute, among those greats. Her notions of anti-luxury and deconstruction and her excessive use of black influenced at least two generations of women, not to mention designers like Martin Margiela. But rarely have we seen anything as personal as her latest collection, shown on Saturday on a plain wooden platform in the courtyard of the august L'École des Beaux-Arts.
The first models, in gray-haired wigs, came out in black trouser suits and coats split open in front — or should I say "hatched"? — to reveal large, seemingly pregnant bellies. The bumps were actually padded bodysuits, which were covered in a print seemingly taken from an old newspaper. But birth and creation were not the only things on Kawakubo's mind. There were allusions to aging — Kawakubo is 75 — like gray wigs and the padded protrusions that appeared later, on hips and rears. And a pair of models appeared with heavy chains clinking under their garments. The chains of a childless woman who for more than 40 years has fed and supported a multi-brand company with her originality and, equally important, her massive willpower?
How many designers, male or female, would have the nerve to confront these uncomfortable yet universal issues — and with a touch of Kawakubo's marvelously dry humor?
This represented a big change from Kawakubo's approach in recent years, in which she avoided conventionally wearable clothes in favor of more sculptural pieces. Those objects, while fascinating, hinted that the great Rei K was at some kind of personal impasse with fashion. According to a rare emailed statement, Kawakubo felt this direction was no longer new, and so turned to "a profoundly internal approach" in which Comme des Garçons will not be about "outwardly evident design and expression, but about the design of content, about what's deep inside."
I'm not entirely sure what Kawakubo means by "design of content." (I would have thought the majority of her collections over the years have dealt with "content.") But I welcome anything that rids fashion of meaningless surface stuff. We've been inundated with it — vintage mash-ups, belabored contrasts between high culture and pop culture. In short, designers have a hard time sticking to design. (I haven't commented on Hedi Slimane's Celine collection, mainly because I wasn't invited — it's an old sore — but one of the things I liked about it was how directly and simply he approached the matter of newness in classics like a trench and a suit, the specificity of the trouser cut, the shoulder line, the hue of the colors, and then gave everything a good polish.)
Kawakubo didn't depart radically from her style, but these clothes still looked fresh and tempting. I adored the sober, almost Edwardian elegance of a long black coat sliced up the sides, and a shorter version in a sparkly black fabric that had a back panel in lining material that sort of draped over the bum padding. On its own, the coat would be terrific. Despite the fuzzy, glossy texture of the fabrics, the overall impression was subdued. And while I have no idea how a cropped military-style jacket and an attached pair of pants will look once the pregnant bump is removed (and the front split remains), I feel certain that women will figure it out.
Saturday turned out to be full of creativity; sunshine and good Paris food, too. (Check out Cravan, a lovely new cocktail bar in the 16th arrondissement, if you're in Paris. It offers a small but delicious menu.) With Freddie Mercury and Queen in the background, Junya Watanabe showed an imaginative, upbeat blend of '50s couture shapes and workwear (overalls, aprons) in denim, layers of snow-white tulle, and fresh-looking floral prints. As he has done countless times in the past, Watanabe finds surprise in the ordinary. His denim patchwork was masterful — part rustic quilt, part abstract painting. And, no, the denim did not come from old stock. It was freshly treated.
Although Nadège Vanhee-Cybulski used the Longchamp racecourse as the scene for her Hermès show, the horse theme was downplayed in what was a terrific collection. Actually, she combined elements of both sailor and saddler — a sleeveless dress in off-white leather with a sailor collar and lacing; a crisp A-line top that resembled a lightweight version of sail cloth; leather jackets with subtle riding-tack details; and a cool drawstring cotton jumpsuit in cherry red with matching Spartan sandals and a bag.
The bags looked fresh, especially a small style with a wide cross-body strap and a floppy suede tote you could hold on a strap. After a number of years at Hermès, Vanhee-Cybulski may finally be coming into her own. At a chaotic, noisy time in fashion, she's able to walk the line between aspiration and soft luxury, and making sure you still look like yourself. That in itself seems a worthy goal.