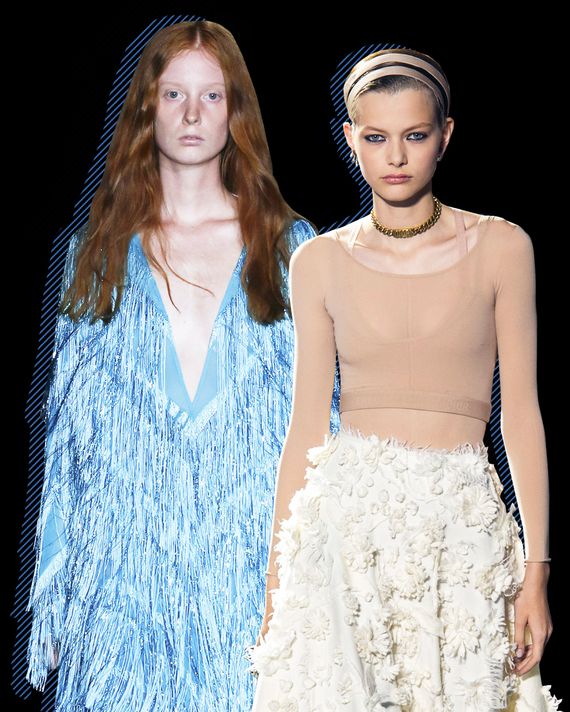 Photo: Imaxtree. Illustration: Lauren Tamaki
It can seem, from an American perspective, a strange time to make history the subject of your fashion show. After all, actual women are on the brink of achieving a political reckoning, thanks to #MeToo and, with any luck, the midterm elections. This year marks the 170th anniversary of the first women's rights conference, at Seneca Falls, NY. Why not look to the future?
But Alessandro Michele chose to meditate on the history of Paris at his sprawling show last night at the Palace theater for Gucci. Explaining his attraction to the city, the designer, who typically shows in Milan, said, "It's full of war remnants, it's full of fashion remnants." His show may have felt irrelevant to the present moment, even pretentiously so, yet there was something admirable in Michele's willingness to follow his melancholy intellectual muse backward through the capital of fashion.
I know what he means by remnants. The view out my hotel window is of the former couture salon of Madame Grès, at 1 Rue de la Paix. Turn left at the corner and you pass the buildings that once housed the foundations of haute couture, Worth and Doucet. In selecting the Palace, Michele wasn't just choosing a former nightclub linked to the '70s and the glamorous tribes of Yves Saint Laurent and Karl Lagerfeld. He was taking his audience to the heart of 19th century capitalist culture — to the quarter known as the Grands Boulevards, which helped give rise to mass pleasures like fashion and shopping. Around the corner was the Passage Jouffroy, one of the many arcades celebrated by the literary critic Walter Benjamin. Michele is a fan of Benjamin's, and understandably so. He is just Benjamin's kind of ragpicker.
The show opened with a 1970 film by Leo de Berardinis and Perla Peragallo, who, according to the show notes, worked in Italian experimental theater. The grainy film, which featured a beautiful young woman hugging a urinal, had a hallucinatory quality, part Buñuel and part Bob Richardson fashion image from Paris Vogue in the early '70s. Its dazed, fragmented quality seemed to be the main connection to Michele's spring clothes.
"It would be nice to reactivate this underground scene," Michele said afterward, to no one's surprise. One of the reasons that Gucci is so popular again is that Michele liberally combines color and gloss with nostalgia and millennial nerdishness. He's made wild clashes of styles his thing, as last night's operatic soundtrack interrupted by wailing sirens made clear. As the models lurched down the aisles of the Palace, there were Janis Joplin's funky hats and wire rims, Issey Miyake's trademark fan pleats, Poiret's beaded Turkish shifts, bourgeois suits, columns that evoked the haute elegance of Jacqueline de Ribes, Josephine Baker beaded minis, and, as well, men's pants with cock holsters and bags in the shape of Mickey Mouse's head.
This was my first live Gucci show since Michele became creative director, and I will admit that at times I thought I was watching Wes Anderson's Tenenbaums on a bigger costume budget. The mixes were all a little too obvious. (I also kept thinking of Martin Margiela, whose knowledge of fashion history was second to none, and yet who never allowed his audiences to see — out of self-respect — his sources, whether they were Victorians or Rei Kawakubo.)
All the same, the show had a rare quality of melancholia. It will no doubt dissipate once the clothes and goofy mouse purses hit the stores, but it's difficult to evoke the relentless passage of time, as well as Paris in all its sedimentary layers, so I am grateful that Michele tried to bring something of that to the surface.
Dior, the other big opener of the Paris spring collections, took place at the Longchamp Racecourse. When fashion writers at the turn of the last century wanted to see the latest and greatest fashion, they went to the meets at Longchamp. On Monday, guests decked out in Dior's tulle princess skirts were still twirling for the cameras, but the creative director, Maria Grazia Chiuri, had a different connection in mind: modern dance.
It's a hackneyed theme in fashion, but Chiuri handled it extremely well, in part because of the group of dancers who performed during the show — led by choreographer Sharon Eyal — and in part because Chiuri matched the dancers' physical strength and flexibility to the brisk simplicity of the clothes.
She did away with the variety of last season and focused on one or two feminine silhouettes — say, the lean upper body with a tank top worn with a full skirt — and a palette that consisted of cream, tan, navy, black, and a muted floral print. It was very clever, its success about the timing of effortless clothes as much as anything. The strongest looks included skirts done in crochet (or macramé) and some gorgeous ballet-inspired shoes with clear plastic wedges.