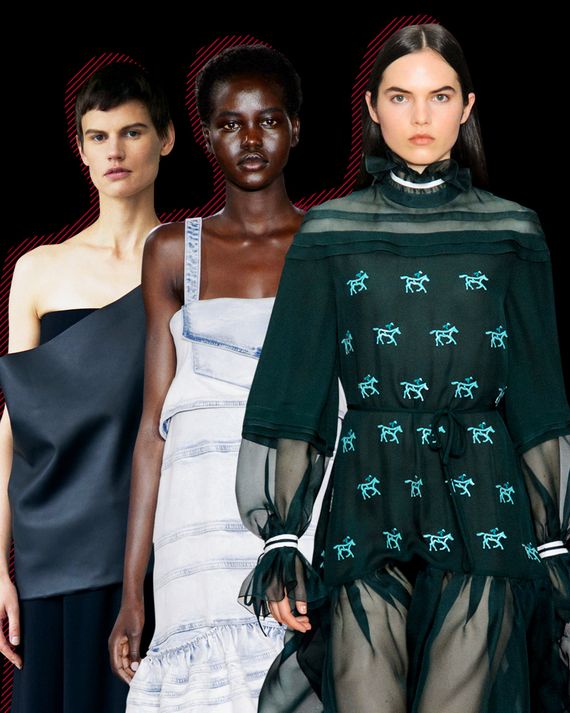 Photo: Imaxtree. Illustration: Lauren Tamaki
In early 2017, Proenza Schouler announced it would ditch New York Fashion Week for the Paris haute couture schedule. The brand's boyish designers, Lazaro Hernandez and Jack McCollough, who founded Proenza in 2002, characterized the shift as "a business-minded move aligned to the realities of commerce today." In other words, by showing earlier than their New York peers, their clothes would have a longer shelf life in stores. And Paris also implied a greater sense of prestige, of course.
There was just one problem with that theory: the clothes themselves. Proenza Schouler's fall 2018 collection labored under so many textures and ideas (the fiber artist Sheila Hicks was a reference) that, in the end, there really wasn't much worthwhile to see. Plus, the fit looked rigid — and suddenly out of step in an America embracing fresh thinking about identity and self-expression.
Hernandez and McCollough are not the only high-end designers confronting the realities of a new world — struggling department stores, a woke generation that wants its own brands and doesn't know Proenza Schouler (and furthermore doesn't care), a retrenched media business cutting back on expenses, and perhaps cruelest of all for pricey designers, a new fashion consumer who is as happy to accept a moderately priced label discovered on Instagram as they are to shell out $800 on Balenciaga sneakers.
So their collection on Monday — back in New York, in a gutted building downtown — amounted to a reckoning. The clothes were so good — simple and made in either cotton or denim — that one hopes the designers stay on this classic American sportswear course. Indeed, they should have done it a long time ago. They said backstage that these clothes will cost customers a lot less than recent Proenza collections, in part because of the fabrics and in part because nearly everything will be made in U.S. factories.
"We liked the challenge of working this way," said McCollough. Well, that way is the hard-won tradition of American designers from Claire McCardell to Liz Claiborne to Narciso Rodriguez — doing things with a sense of economy and effortlessness. And using ordinary fabrics like cotton in a fresh and inspiring manner.
The highlights in this collection were many, including A-line skirts with an offset waistband, a superb military-style jacket with a high collar in white painters' cotton twill worn with wide-leg trousers, a drop-waist sundress in bleached denim, and tie-dyed cotton shirts that hinted of a floral pattern. The proportions looked great and you could easily imagine adapting pieces to your own lifestyle. One of my favorite looks was No. 27: high-waisted, wide-leg trousers with a neat bleached denim shirt and a lean dark blazer. The outfit would work in a structured office setting, yet still look unfussily cool.
There were faults with the collection — chiefly, that Hernandez and McCollough apparently felt the need to make reference to a contemporary artist, as is their wont. This time it was the Berlin-based artist Isa Genzken, who also created some sculptural interpretations of the collection as part of yesterday's show. They also used her idea of found objects — photo images stuck with black tape on the backs of some shirts. That technique is also widely associated with Raf Simons.
My advice is to skip the art references (and obviously avoid following their friend Simons), and continue to stay on this less-is-more track, where the true mental exercise is in meaningful design.
In lieu of a show this season, Ashley and Mary-Kate Olsen held a modest presentation of their rather chaste smock dresses and tunics for The Row, along with their new men's line, which bears a resemblance to the old minimalist suiting style of Jil Sander and others. (Which is not a bad thing: lots of men now complain it's harder to find that suit look. The Row's will cost from around $4,000 to $6,000, and be made in Japan.) The Olsens' women's clothes are starting to look a wee drab and could benefit from a tune up.
Wes Gordon's debut show for Carolina Herrera was impressive. He captured her love of prints, but with a fresh, sunny batch of florals in floaty materials. Some of the flower motifs — a big bloom stuck on the side of a split skirt — looked as corny as the Wisconsin State Fair, but the overall effort was charming. I loved the playfulness of summery smocked dresses (long and short), and off-the-shoulder numbers in polka dots.
Gordon couldn't quite nail a daytime style for Herrera, but he took the starch out of the label and he made me curious to see what he'll do next.