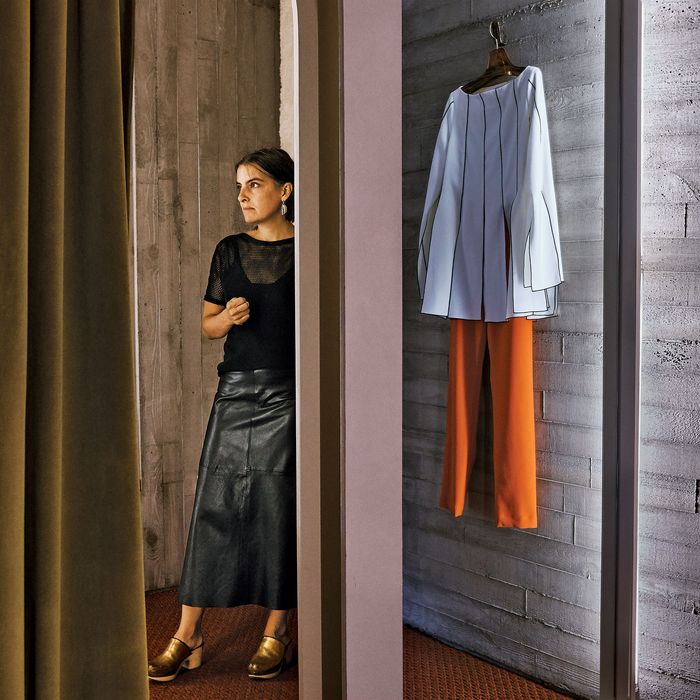 Rachel Comey.
Photo: Andres Kudacki
A lot of people think of Rachel Comey as "a quirky Brooklyn designer." Her clothes aren't actually quirky, and she lives in a converted barn in the Hudson Valley (though she keeps an apartment in New York). But she is cool and she does have a devoted following of offbeat creative types. She is so cool that when she wants to invite artists or actors whom she has never met, but whose work she admires, to her show, she drops them an email — no hustle. They almost always say yes. She is so cool that I know exactly what Maya Rudolph means when she says, about meeting Comey for the first time in her Soho shop, "I'm such a wannabe fashion designer in my heart — it's my hidden secret — she was just instantly approachable in a way most designers are not." Comey has the same face for everyone.
But to call Comey's fashion "quirky" is less a description than an evasion. "It's so rude, 'quirky,' " she tells me over dinner at La Mercerie, the busy café at Roman and Williams Guild in Soho. "It translates to 'I don't want to try to understand.' "
It's true that it's hard to pin down Comey's aesthetic. She is not a conceptualist like Miuccia Prada, confronting a generation's feelings about "ugly beauty." Nor does she offer a ready-made sensibility like Natacha Ramsay-Levi of Chloé, the current queen of French cool, with her dreamy blouses and sexy tailoring. There's no Wang Gang pulsating at her shows. Yet by the same token, Comey is free of such self-limiting terms. One can argue, in fact, that her clothes are a lot less formulaic than those of many better-known designers. Over the years, she has made a point of designing for artists, writers, actresses, and, more recently, women in leadership roles, like Yukari Pass, who helped build Google's and Twitter's business in Japan. Pass likens Comey to Issey Miyake in that her wide-leg pants and original prints combine art and functionality. This year, Michelle Obama began wearing Comey's designs, including a simply cut belted white dress with long sleeves.
She has an intuitive sense of the moment that makes her a reliable guide to young women looking to stand out in some interesting way in New York. (Her clothes, though pricey, cost about a third to a half of luxury labels.) One of her earliest hits was a stacked-heel clog. That's how Samira Nasr, the executive fashion director of Vanity Fair, and the actress Greta Lee, who has appeared in Girls and High Maintenance, both discovered her label — seeing her hybrid of mule and boot on the street. There are her popular jumpsuits. ("You can wear them anywhere," says Sravanthi Dev, a communications executive of a large tech company.) Four years ago, Comey braved Los Angeles's competitive denim market, knowing almost nothing about washes, and created, among other styles, distressed cropped jeans with a high waist that were an answer to the ubiquitous boyfriend. ("I've said this before," says Nasr, "but she's set trends in denim and never gotten the credit.") Right after the 2016 election, a group of women planning to attend the Women's March asked Comey if she'd design something for them to wear. The women, all founders of Downtown for Democracy, proposed the Latin salutation Si vales, valeo, which they translated as "If you are strong, I am strong." Comey printed the slogan on a camo jacket — and ended up putting the look in her February show in L.A. It was a huge hit.
"I am not really a slogan type of designer," she tells me, "but I do like this sentiment and found it comforting at that moment. I think many people did, as we reproduced these [coats] several times due to demand."
If it's hard to sum up Comey's style, it's probably because she makes clothes for so many different types of women. In July, when I visited her studio, she mentioned that she had been asked by a criminal psychologist, whose colleagues are male, to help her get out of a wardrobe of black suits and black shifts. As Comey said, rising to the challenge, "She doesn't feel she's being respected in the staid environment that she's in. So what can we do for her to help her feel she's in command?" A few minutes later, after I'd been introduced to her young team of assistants, led by design director Rachel Scott, Comey said, with a grin, "We so want our jeans to hang off our hips at the moment."
As Rudolph puts it, Comey is "designing everything for everyone." She enjoys the playful but flattering twists of Comey's separates: "Because I don't feel like I'm any sort of hot-bodied actress — I'm a very normal woman who's had four children — I've never felt intimidated by her clothes." For Lee, on the other hand, Comey's offhand approach to dress-up — she recently introduced belts with long glittery fringe that can be worn over pants or a dress — has an unexpected glamour that underscores how weirdly dated most red-carpet femininity seems. "Rachel always feels less status quo in a very empowering way," says Lee.
Whenever I see Comey at a show or run into her at a party, I'm struck by how open she is. She's wonderfully candid, but she talks shop only if prompted, and she doesn't do that manic fashion thing of complaining about the grinding pace one minute and, the next, telling you about her weekend in Hydra. She's detached. The art dealer Pascal Spengemann, who has known Comey since 1995, when they both lived in Burlington — Comey studied art at the University of Vermont and stayed around after graduation — explains the difference: "She doesn't make the scene. And I think a lot of that stems from a studio practice. When I met her, she was making sculpture. That's kind of a solitary practice."
And yet Comey has followed a path from unknown artist to independent fashion entrepreneur with a sustainable business — a rarity in today's world of brand conglomerates. "I've had these young designers come to me and ask, 'How does Rachel Comey do it?,' " says Wendi Martin, the owner of the influential Texas boutique Kick Pleat. "I've probably heard that five times in the last year."
The answer to that question would be perseverance and a dawning awareness that she didn't have to do things like everyone else. The second of three children and the only girl, Comey grew up in a family of hard workers and middle-class expectation. Her father was an insurance executive in Hartford; her mother, a homemaker. "It was very regimented in that way, formal," says Comey of her upbringing. She was sent to Miss Porter's School — the only detail she seemed embarrassed to reveal, perhaps owing to the school's tony image — and started her first business in Burlington with a line of women's underwear (the "granny panties" were not a notable success), before moving to New York in 1997 at the age of 25.
As a freelance assistant on photo shoots, she learned to drive a box truck, worked for a trend-forecasting service ("Stupid. But, okay."), and designed stage outfits for her then-boyfriend, Eugene Hütz of the band Gogol Bordello, which led to an order from David Bowie for two hand-painted shirts. But Comey only ever worked at one fashion brand, Theory, where her job was to create "color stories" and "find cool things."
Comey launched her label with menswear in 2001, financed with credit cards and loans from parents and friends. A women's line came two years later, but Comey struggled for recognition — she says she was rejected by the prestigious Ecco Domani prize, which awards a grant to show at New York Fashion Week, at least four years running. Her unconventional start, along with a certain ambivalence toward fashion, may help account for why she didn't get discouraged or bitter.
Spengemann tells me, "She's not a person generally who deals in frustration. But I also think she takes a little pleasure in going against the grain. For sure, she didn't fit the mold of what people were looking for in a young designer, like being a public figure. Her temperament may have held her back a little."
Finally, in September 2013, tired of spinning her wheels, Comey freed herself from the yoke of New York Fashion Week and made the audacious move of taking her act to the Brooklyn waterfront, where she staged a runway show and dinner. (She will skip New York altogether this fall, having shown in L.A. twice in the past 18 months.) As the beautiful and laid-back Comey greeted guests in the superb weather, and a bevy of stars — Greta Gerwig, Maggie Gyllenhaal, Rashida Jones, Parker Posey, Cindy Sherman — relaxed at picnic tables, you wished that you could hang out in Brooklyn till Fashion Week was over. Now lots of designers show there or, if not, try to create the cool vibe of a happening, nearly all with budgets far in excess of the $40,000 Comey spent.
"When I first got into fashion, I tried to fit into that mold of thinking, Well, stylists will now come to look at the collection and we'll get some editorial. But I wasn't really in that world. It wasn't my natural tendency or interest," she tells me. "Finally, when I did the dinners, I thought, Oh, I can do things my way and it can work. So it gave me confidence. Do things that feel natural and it will probably come out stronger." She adds, "When you're younger, you don't know things like this. You're just waiting to be picked up."
Those shows freed Comey in other ways. Like a lot of independent designers, she has seen her brand go on the ins and outs with department stores. So she decided to focus on boutiques like Kick Pleat, in Houston and Austin, and Tenoversix, in Dallas and Miami (and, next spring, Hudson Yards), where the owner takes more time to understand the collection—and Comey. (An exception is Nordstrom, which has carried her line since 2015. "That one is a real relationship," she says). She has also opened stores of her own. The first was in Soho in 2014; the second, two years later in L.A. Aside from cash flow, the stores provide Comey with daily reports about what women are buying and why.
For Spengemann, the shift in Comey's career came when she started understanding her customers. "Who are these women? It seemed like she started to paint a picture of who she was making clothes for, and that's when things really ignited," he says. "And it was kind of hard for us, the friends, to understand at first. I go to art fairs and I see so many women wearing her clothes. Artists tell me, 'You know Rachel Comey?' " Spengemann laughs. "It's not hysterical but it's a really activated base."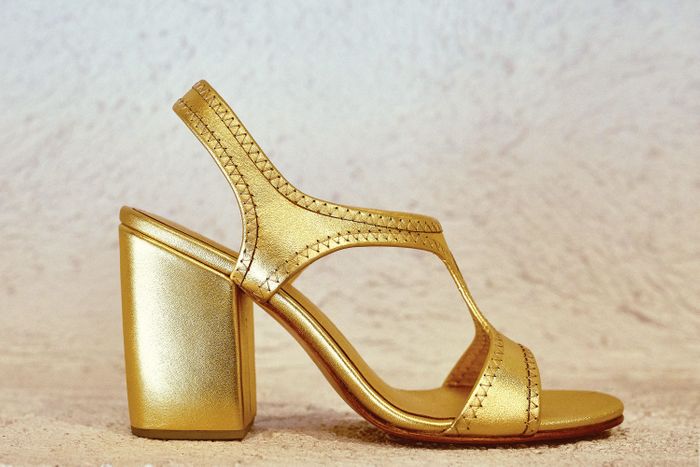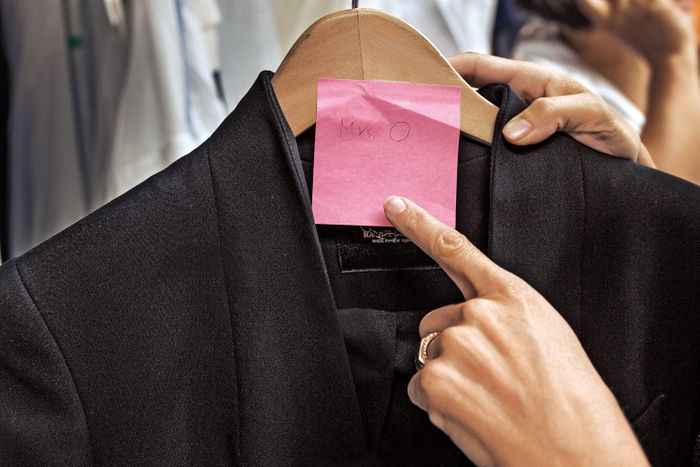 Today, her business does about $15 million a year in sales. It's profitable, though hardly flush; she employs 45 people, there's rent, and Comey often listens to podcasts on her daily commute to stay abreast of HR and tech developments. But she and her husband, Sean Carmody, who stays home with their two young children, live quite well.
At the restaurant, I ask Comey if she'd ever thought about being a stylist when she first arrived in New York, given her personal flair (she loved vintage clothes) and that she worked on photo shoots.
"You know what?" she says. "I'm not that into images. This is like a major problem for me, lifelong. But I'm really good at admitting it now. I just don't care that much about fashion photography." One reason is content. "All the images are from a male point of view, all of it, my whole life, all of our lives — it's always the man looking through the lens. Imagine if it were more women? … We're missing out on things. And we're conditioned to be ashamed of menopause and aging. I'm just not doing it. I'm into embracing menopause — I'm not there yet, but Frances McDormand style." Comey wants her work "to grow and mature in a way that's cool. I think that's a very interesting and missing thing in New York."
The next time I see Comey is in her studio, on Broadway near Bond Street. She has spent part of the morning meeting with a new shoe designer, and later that afternoon a personal stylist is coming by to select some pieces for a prominent client. About 20 young people, mostly women, are working at desks in the main part of the studio, and beyond is the crew of pattern-makers and seamstresses in Comey's sample room — a luxury for a small brand. She and I are in the front space, which doubles as her office and a fitting room. A dress rail holds looks from the resort collection that showed in June in L.A.: a tailored white jacket with a wide belt; a multihued feathered skirt; those cool leather belts with the swishing long fringe. Displayed on the nearby wall area are plans for gardens by the Dutch landscape designer Piet Oudolf.
"I had this moment of getting into his drawings," she explains. "He goes into these really fun colors. So we asked if we could work off them. He was totally game. How cool is that? They remind me of how you would do a crochet pattern or a beading."
Because the resort collection hits stores in December — right before red-carpet season — the line is especially important to her L.A. business. For that reason, Comey says, "we were trying to do alternative versions of tuxedo and dress-up, so the actresses and our other customers have more choices. It just seems when you look at all that Hollywood stuff, it's just gown, gown, gown. It's fresh to have other silos."
Greta Lee recalls her favorite Comey look, an off-the-shoulder white top with blue flowers, worn to the Veep premiere in 2015. "It was so bizarre and huge, with puffy sleeves. It looked like a duvet cover," says the actress with a giggle. "My husband was so confused. I wore that top with jeans and felt greeaat."
Perhaps the most crucial part of Comey's design process is talking with her assistants and Rachel Scott, a soft-spoken woman who worked for Costume National in Milan and the brand Elizabeth and James before joining Comey four years ago. When I call her, Scott says, "There are days when Rachel and I spend hours just sitting together and talking — about politics and culture, and for who and why we're making something, and is it relevant in their lives. That makes it a very different process than using a mood board or looking at couture images and then developing looks from that."
You can't help wonderin, Why isn't Comey the head of a major label? She was interviewed four years ago for DKNY, the job that went to Dao-Yi Chow and Maxwell Osborne, the celebrated designers of Public School. The brand was sold a short time later, and they departed. I also think of a line from a Kennedy Fraser essay: "Fashion hurts most what it professes to admire most" — independence, integrity — "and does most damage to the best." Comey would love to hire a top executive to free up her time, that is, if she could find one whose salary demands weren't inflated by the fashion industry.
But Maya Rudolph takes a different view of Comey's place in the industry, and it serves as a valedictory of sorts.
"I think the fashion world assumes — I just saw the Alexander McQueen documentary, so it's fresh in my mind — that, 'Yeah, don't you want to work for Givenchy and do your own stuff?' " Rudolph says. "There's no doubt in my mind that Rachel is capable of creating stuff for another brand, but that's not what she does. I think it's important that she's doing her own thing in her own way. To me, that speaks volumes. That's what she stands for. And it's what a lot of her intelligent customers stand for as well."
*This article appears in the September 3, 2018, issue of New York Magazine. Subscribe Now!