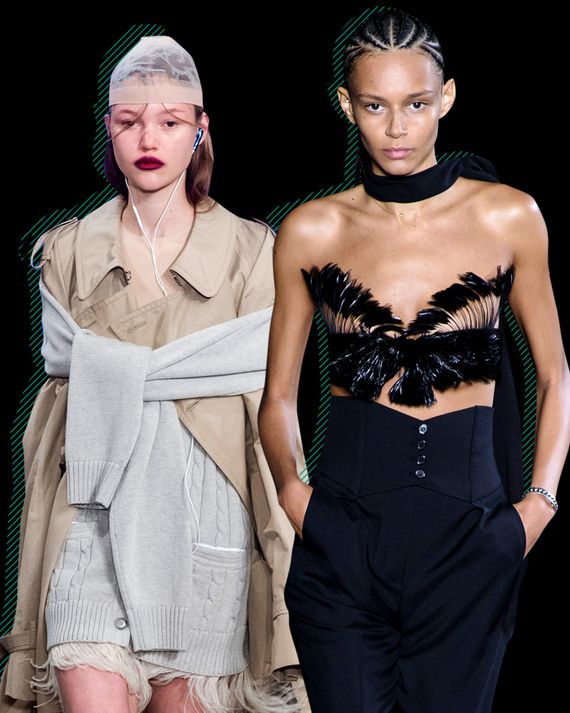 Photo: Imaxtree. Illustration: Lauren Tamaki
Since taking over Maison Margiela a few years ago, John Galliano has retained some of the brand's quirkier qualities, like having the helpers at shows dress in the long white coats that couture workers wear. He also stages his shows in clean white spaces, as if to symbolize the opacity of Martin Margiela, who never gave interviews.
But his latest show departed from that identity in a surprising manner. The walls were filled with video projections of well-known women — among them the rapper Princess Nokia, Willow Smith, and the model Hanne Gaby Odiele, all dressed in lab coats — talking about gender and self-realization. The women said things like "create the rules, then break them," and, "You can be whatever the fuck you want." And then after posing or staring meaningfully into the camera, "This is my mutiny."
I was becoming mutinous myself after the sixth replay (I got there early — my bad). So what was this new visual at Margiela?
An appeal for greater inclusivity? A fragrance launch? A hint of more daring things to come from Galliano?
The correct answer, unfortunately, is (b), a fragrance launch! Mutiny (the fragrance)! (The company also planted a giant video billboard on the sidewalk, after the show, in case anyone missed the message.)
No one expects fashion brands to remain the same after their founders depart, because they never do. Look at all the different iterations of Yves Saint Laurent since the company was sold in the late '90s to Gucci. On Friday night, Hedi Slimane will show his version of Celine for the first time. We learned this week that Versace will be transformed by Michael Kors, a partnership that would have been unimaginable in the mid-'90s, when Gianni Versace was still alive.
But the blatant fragrance tie-in at Margiela, along with the vintage Calvin Klein-style of girls talking intimately to the camera, felt wrong nonetheless — its banality was so counter to the spirit not only of Martin Margiela, but to that of Galliano, too. You expect a designer of his caliber to have their work stand for something.
The hardest quality to find in fashion is something everyone once took for granted: authority. Margiela had it. Slimane's got it. And I like to think Galliano still does. You get authority from the stuff you put on the runway. For the hardcore followers of fashion, who can tell when a collection has been designed, when pencil has actually been put to paper, there will always be only one standard: Show me the clothes.
Paradoxically, the gender-fluidity and diverse casting on Galliano's runway also felt banal. Why? Because Galliano, in the tradition of Jean Paul Gaultier and others, was a pioneer of atypical casting. His early men's shows projected a view of sexual swagger that wasn't common in that era. And one of my favorite shows of all time was one in which he cast people from the burlesque — short people, oddly tall people, oldsters, twins. The fashion crowd was duly appalled at what one journalist characterized as Galliano's "monsters." But would they be upset today? I doubt it.
Gender-fluidity has become a fashionable thing on the runways, so coming from Galliano at this later moment, the danger is that it seems like a hollow bid for relevance. Nevertheless, within this mostly so-so collection, there were some outstanding pieces of tailoring, like the caped jackets and coats, and some shifts that played on dressmaker techniques like basting. The clothes would have been more forceful if the show's other elements hadn't clamored for attention.
I had a similar sense about Anthony Vaccarello's collection for Saint Laurent, though the brands are obviously quite different. Showing outdoors on Tuesday evening in a shallow reflecting pool rimmed with fake palm trees, Vaccarello had his models tramp in their platforms through the water — the picture, I suppose, of Yves Saint Laurent's feminine ideal. Strong women, capable of walking on water.
And the clothes were generally fine — the lanky black pantsuit that opened the show, the blazers with denim cutoffs or leather hot pants, the baby-doll shifts, the transparent black chiffon pieces that linked to Helmut Newton's photographs.
But that's also the problem. Vaccarello is a merely competent designer, not an authoritative one. This collection largely followed Slimane's blueprint for the brand. And what is Vaccarello going to do when Slimane does his thing on Friday night? More to the point, what are Saint Laurent's customers going to do? Jump the good ship? Mutiny? Authority matters.