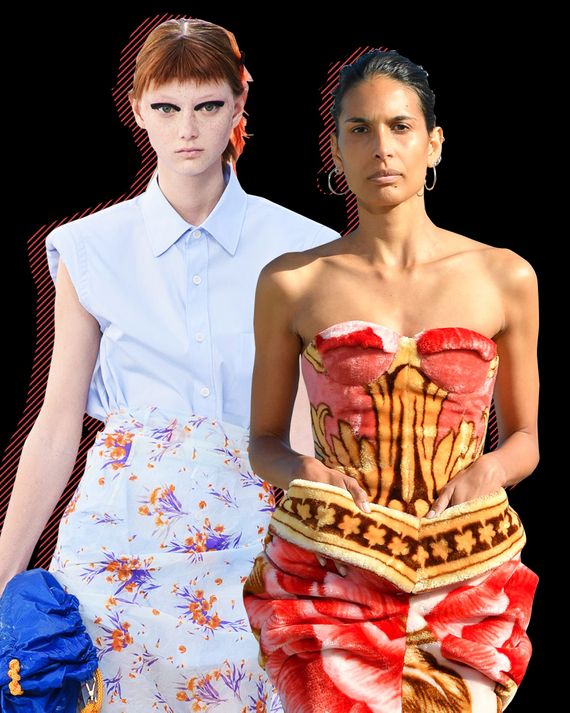 Photo: Imaxtree. Illustration: Lauren Tamaki
Combining the dash of mid-century haute couture with the comfort of modern workwear or athletic clothes is not a new thing. Raf Simons did it at Jil Sander. The great fashion alchemist Yohji Yamamoto has been doing it for years. And Dries Van Noten has played with these influences before, in 2008. But now again in Van Noten's hands, the effect felt just right — stunningly right.
This was one of the year's best spring collections, and it left the audience with smiles on our faces. Van Noten's intentions were clear from the first outfit: loose white cargo pants with a matching duster and a T-shirt splashed with featherlike sequins in vivid canary yellow. The saturated hues of orange, yellow, and Yves Klein blue, combined with black and white (and loads of navy), were a nod to contemporary art, the plastic "feathers" to couture's traditions. But it was Van Noten's lightness with couture's grand gestures — the side drape of a skirt, a peplum, a lavish bow — that impressed. He never let the shapes or the attitude of the collection go too far from Earth.
As the designer, with a sweater tied loosely over his white shirt, said backstage yesterday, "What's more beautiful than workwear?" And he added, "I don't want to make couture. I want to make clothes."
Van Noten is a master of trousers, and this show included wide-leg painter styles as well as boiler suits in dark cotton that could be worn conventionally or dropped to the waist and gathered, and paired with a white sequined undershirt for a more relaxed evening look. Van Noten said he and his team were mainly interested in imparting a sense of attitude — "the way that you dress, the way that you gesture, the way that you stand." Which is probably why the show never felt nostalgic.
Also striking was the fact that Van Noten sustained your interest. It didn't sag in the middle. There were gorgeous side-draped skirts in prints that lightly evoked a summery sarong; sleeveless blouses in crisp cotton that were sharpened up with shoulder pads; very cool ponchos and anoraks; a chic sleeveless coat over trousers.
But then Van Noten sent out a one-shoulder khaki tunic over a white T-shirt and black pants (a simple idea, but so fresh), followed by the boiler suit gathered peplum-style, over stark white sequins, and then a sheath with a burst of orange feathers at the hem, and then a beautiful — but sporty — evening dress in a papery black taffeta draped to one side and finished with a fat bow.
We were up to Look No. 53, and Van Noten, who recently sold a majority stake in his company to Puig, the Spanish fashion and beauty group, was still having fun.
The newcomer Marine Serre also had a strong show, her second since winning the LVMH Prize. She continued with draped scarf prints and her signature crescent moon pattern, mostly used for body suits. The best looks were a minimally draped dress in white cotton jersey and a boiler suit, both inspired by Formula One, and some one-off finale pieces made from upcycled things like blankets and army field jackets. I wish, though, Serre had concentrated a little more on her shapes and construction in order to create memorable fashion — a problem she didn't have last season.