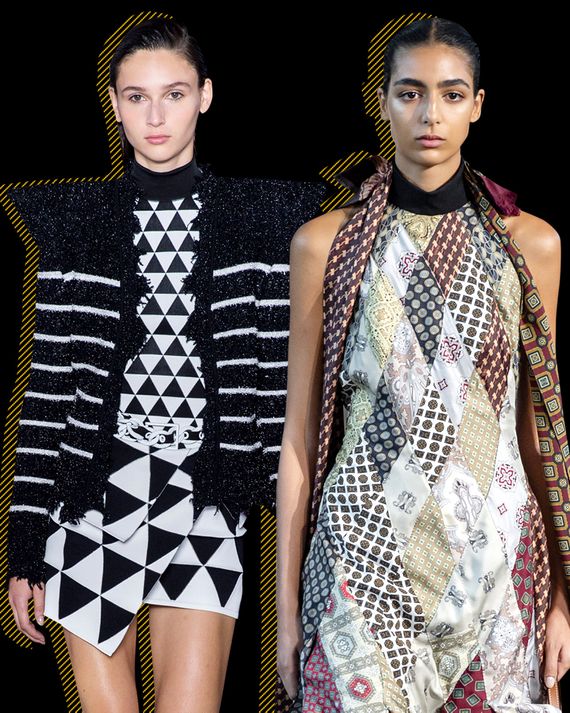 Photo: Imaxtree. Illustration: Lauren Tamaki
Jonathan Anderson, the artistic director of the Spanish leather house Loewe since 2013, hit his stride about four seasons ago. In roughly September 2016, he introduced a long fit-and-flare silhouette, and his materials and handcrafting became more subtle, and as a result more surprising. Gone were the jarring mash-ups (like cashmere with clear-plastic slacks) and the artsy coolness that seemed designed more for an Italian Vogue editorial than a real body.
That relaxed style continues for spring, with looser volumes and touches like smocking and straw bags that could almost be called homey. So how does Anderson define the difference? "It's more edible," he said backstage, after most guests and editors had cleared out. We were looking at the lineup board of model images. He raked a hand through his hair. "You know what I mean?"
I was quite sure he wasn't inviting me to taste a pale blue silk pants-and-shirt set drizzled with blue and salmon-pink feathers down the front. But, yes, I got his drift. The clothes seemed to promise the qualities of a feast: texture, pleasure, civility. And the many looser looks in the collection, notably caftans, don't dwell meanly on girth.
Anderson's strengths were amply on display. He created a wide assortment of individual styles, from a dress in a woven pattern of wine-dark silk foulard and scarf prints that fluttered in strips at the ankles, to a breezy T-shirt dress in three shades of blue striping with a flared hem, to the eccentric pairing of a chaste white cotton shirt with a long harem skirt in plain-old khaki. A recurring accessory was a wide, whipstitched leather collar; it made me think of the way people let headphones rest around their necks. Anyway, the collar lent a sharpening element to the soft, bohemian shapes.
Anderson's other strength is to find new treatments of leather. A top or a skirt that I assumed was cotton was actually suede or leather. And many of the distinctly leather pieces, like a beautiful black caftan with a colorful block of smocking in front, were more sensuous than ever. Anderson grounded many of the looks in utilitarian hiking boots. Also lending weight to things were lavishly fringed bags and some woven/macramé styles that he developed initially with an Irish basket weaver and then worked on with a leather specialist in India.
But if there was a fault with this "edible" collection it may just be that — it's too comfortable with itself, too content. Anderson's easy silhouette, his knacks for interesting contrasts of materials and creating offbeat looks that are at once accessible and individual have become a fallback position for him. Perhaps he should consider pushing himself in other directions now. I say that with reluctance, because he's put Loewe on the fashion map. But as a higher authority once put it, even the tastiest meals can stand a dash of paprika now and then.
Who understands that better than Olivier Rousteing of Balmain? One can look at his show, at Hotel de Ville, as something of a joke. Seriously, Cara Delevingne dressed in a white satin robe with Dick Tracy shoulders and a silver breastplate as she struts out singing while Prince's When Doves Cry plays? She was followed by a model virtually entombed in a pleated, scarab-shaped mini.
Rousteing has always been a showman, sometimes to his own detriment (when embellishment made his clothes look heavy), but this time his riffs on Paris couture and its monuments — mostly from the Napoleonic era, when Egyptian artifacts and symbols appeared in the city — were crazy enough to work. There were trousers and minis embroidered in geometric patterns (think I. M. Pei's glass pyramid at the Louvre); sleeves whose crumbly texture suggested papyrus; denim and leather pieces that resembled cracked plaster; and those wide, galactic shoulders that linked 19th-century military swagger to 1980s French chic.
I can imagine lots of women, around the globe, dying for a silver-encrusted Balmain gown or a micro bustier dress with Cleopatra herself pictured below the bosom — and not finding anything all that silly about them. But, as Rousteing knows, it's the kind of silliness — and sexiness — that Paris, from its famous costume balls to the runways of Mugler and Gaultier, has always had a soft spot for.