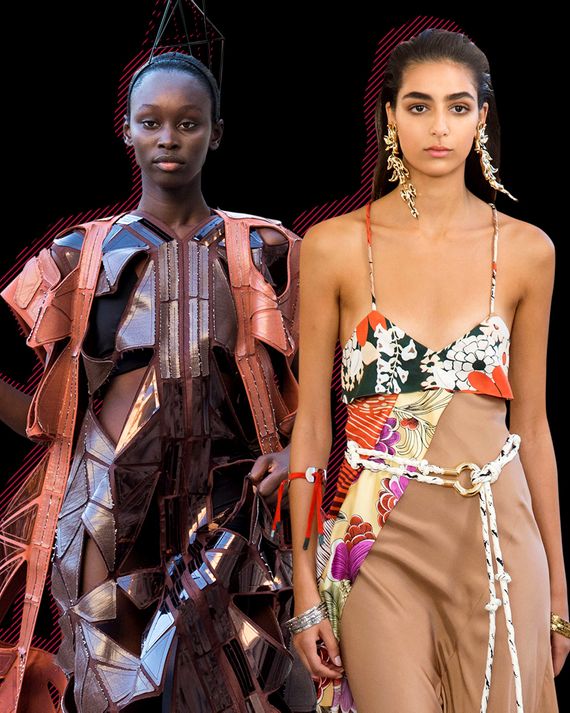 Photo: Imaxtree. Illustration: Lauren Tamaki
Midway into Rick Owens's show, on the plaza at the Palais de Tokyo, a dark-skinned model appeared in a shell made of strips of fabric, as if the original garment had been destroyed in a battle and the warrior remnants were all that remained. She also had on black high-tops and dark, bug-eyed glasses, and aloft in her hand was a burning torch.
Lady Liberty? A leader of a band of female vigilantes about to set fire to the patriarchy? The Kavanaugh-Ford testimony had been streaming on peoples' phones, so the mind inevitably strayed in that direction. But in reality, Owens conceived the collection, and the abstract tower in the center of the plaza that burst into flames, as a response to a knot of personal questions, including how to be creative in a conservative time.
Owens's blazing centerpiece alluded to Tatlin's Tower, an icon of Constructivism and dreams of social and economic progress that was planned for Moscow in 1920, but never got off the ground. Had it been built, the tower would have been the tallest structure in the world. "I've been frustrated with how straight the world can be, how petty," Owens said, explaining his motives. "Just the process of getting permits to do this was tedious." Yet in the '70s, he noted, there were performances in Paris that involved fire. "Things were a lot more free then."
At the same time, however, Owens wanted to solve some problems (as he saw them) with his women's designs. He felt his sculptural shapes were becoming too heavy. The results were fascinating — roundish jackets in drab cotton canvas that had overlapping flaps and bits on the sleeves curling upward like small wings, and a huge pointy bow at the neck. Shown with bikini tops and distressed denim minis or shorts, and of course, the bug glasses, they made the models look like exquisite insects.
"I wanted to get lighter," Owens said. "More exploding and light and flying away."
That sense of movement continued through the collection, with the lattice pieces that he called Brutalist lace, and with simple dresses layered with long fringe. (Though the fringe looked silky, it was actually rubberized for a bit more heft.).
"I don't mean to be a fashion quoter," he said with a grin, "but in D.V., by Diana Vreeland, I remember her saying that fringe was a big point in the exciting periods of history, the '20s and the '60s. It just felt right. And what's more feminine than fringe?"
Owens's inventiveness, after more than 20 years in fashion — 15 in Paris — ought to make people feel good. And, yes, I would love to see a young woman decked out in the mini version of his Brutalist lace, with hiking boots, at the next Women's March. But for Owens, and perhaps any artist, salvation lies in the work.
"Just the act of creating, of making clothes, is an act of hope," he said, before adding with a laugh, "And then I built a tower in the middle of Paris and burned it down."
There's a lot of talk this week about memories and traces. It began with Alessandro Michele's Gucci show at Le Palace. Yesterday, Natacha Ramsay-Levi made souvenirs — of summer travels, nature — the theme of her sensual Chloé show.
Calling the blend of scarf-draped skirts, bikini tops, and blazers "hippie modernism," Ramsay-Levi said, "I think this collection was about being literal and yet still on the edge of fashion."  That meant muted silk prints in shades of dark blue and wine, easy knits based on tapestries, gorgeous blouses, and a relaxed attitude with plenty of urban polish. This collection, which was loaded with jewelry — bangles, amulets, rings, anklets — may have lacked Ramsay-Levi's girlish French coolness, but for that reason it was her most accessible. The pretty, fluid shapes, balanced by chunky sandals, also helped tip the show to the modern.