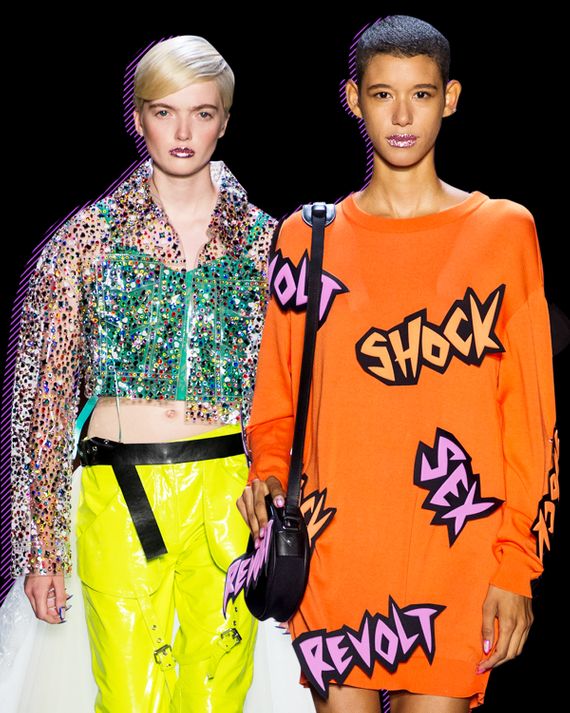 Photo: Imaxtree. Illustration: Lauren Tamaki
Someday, a clever curator is going to do a retrospective of Jeremy Scott's fashion and it's going to all make sense — the pop-cultural references, the iconography of magazines and comic books, the incredible palette of swimming pools, childhood, and American strip malls, all of it. And it's going to blow our minds how good he is.
Season by season, a Scott performance doesn't necessarily produce that delirious effect. His 20th-anniversary show, last fall, with its supersized jewelry and graffiti prints, felt listless. Yet, when I look back at his spring 2016 collection, I wonder how the comic shtick of his toy-gun-on-polka-dot prints and bright TV hues escaped me. Scott's use of color and repetitive images in that show obviously linked to the style of Warhol and Lichtenstein, but whereas other designers might seek to impress you with the art connection, Scott doesn't seem to care if you see it or not. If anything, he strips away a potential halo. The toy-gun print could be from a kid's pajamas.
From a critic's perspective, Scott is tough to love because his shapes are both basic and constant. Someone like Martin Margiela, for example, sought to unpack the notion of luxury at the moment the fashion industry was beginning to swoon over luxury-goods brands (and those big names, with their bucks, were beginning to corral our attention). And no designer has explored the history of fashion — that is, the cut and tailoring of clothes — with more perceptiveness and subtle wit than Margiela, as the recent Paris retrospective showed.
Scott has never pretended to be in that league. And the truth is the time has probably passed for that kind of visionary talent. Fashion consumers simply don't support it in large enough numbers to make it pay. It's too intellectual, too hard to process in a swipe. Yesterday, I ran into one of the top executives in the industry, a man who has helped shape the careers (and fortunes) of several designers. He told me, "Fashion is changing so fast that I can't keep up with it." He mentioned specifically companies that had successfully exploited the internet and influencers, that almost overnight had gone from annual sales of $50 million to $500 million.
This head-snapping shift is hardly news — and it's hardly confined to fashion. But I think it helps to explain some of the things we've seen so far as a new season unfolds: the emerging safety zone of nostalgia on some runways, like Matthew Adams Dolan's charming, overscaled take on classic American sportswear, including some ultra-wide jeans and simple work pouches for your phone and stuff, and Tom Ford's long confessional statement about how fashion has gone off track and why he returned to his Gucci roots.
It need hardly be said that for a lot of designers, including Ford, adapting to change isn't as easy as it was a mere five years ago.
Scott doesn't have that problem, in part because his clothes are at once predictable and a blank canvas for the cultural references that ultimately drive his imagination. This was a particularly good Scott collection, loaded with visual pops — like his orange sweatshirts and minidresses pulsing with 3-D word decals (Riot, Peace, Sex, Shock) — and some frisky shapes, notably suspendered overalls in camo and vinyl that zipped front to back through the crotch. You can zip a pair open down the rear to show as much as you want.
Also cool were Scott's use of grainy photo prints (some self-portraits) and off-white, cropped hoodies with faded squiggle prints that appeared to be autographs, as if from a high-school yearbook, and which you could pair with the overalls or layer with grunge plaid.
Scott is too wise to lump all of his eggs in a political basket, but between the plaid and the confrontational style of the crotch-zipped pants and the boss motocross-style boots — not to mention the anti-Kavanaugh T-shirt he wore for his bow — this collection felt primed for a protest. A future curator will surely note the timeliness.