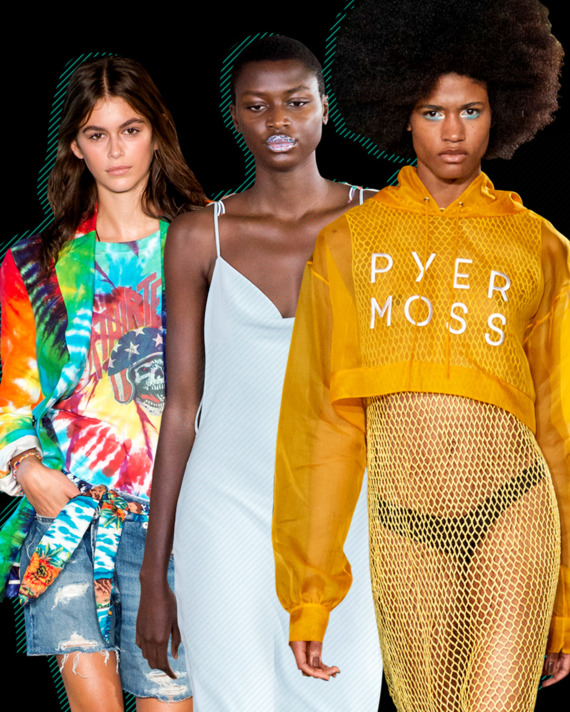 Photo: Imaxtree. Illustration: Lauren Tamaki
A decade ago, no one at Fashion Week could have imagined taking a car on Saturday night from a show on a West Side pier to a show in the Brownsville section of Brooklyn. It took nearly an hour to reach Kerby Jean-Raymond's Pyer Moss show at the Weeksville Heritage Center, and the models were already dressed and lined up when we arrived. But such is the hunger to see fashion with a distinctive voice.
This was the third show of the day in the borough, and in a lot of ways, Brooklyn now is what Soho and Tribeca were to designers like Isaac Mizrahi and Marc Jacobs in the early '90s. Back then, downtown lofts denoted freedom and creativity, while uptown ballrooms signified old guard names like Geoffrey Beene and Bill Blass (it was a pretty meaningless divide, in hindsight — who was more creative than Beene?)
Jean-Raymond's gift is for responding to things right in front of him, and then making simple, wearable clothes with a spark of wit. The setting was magical: The Weeksville Center, near where he grew up and one of the first free black communities in the country. Framed by some of the original wood dwellings, with taller modern buildings enclosing them, and with a choir of 40 strong, the male and female models — "people who are constantly overlooked in bookings," Jean-Raymond told me, selected "to show that black can be beautiful without being sensationalized" — came along a path through the lawn, the pale pinks, bright yellows, and blues of their clothes caught in the lights and rain haze.
But the strongest element was the fashion — to my eye, looser than anything Jean-Raymond has done before. The dominant garment, not surprisingly, was a choir robe, though Jean-Raymond and his team turned it into something playful and unchurchly, especially a sleeveless, high-neck dress in pale pink and a one-shoulder, draped version in siren yellow. Also striking were a bright yellow rain slicker, leather separates with sporty logos, and richly colored prints based on paintings by the artist Derrick Adams, which appeared on accordion-pleated garments and an all-over, crystal-beaded dress.
"I wanted to show what African-American leisure looks like," Jean-Raymond said with a twinkle. "We came up with a phrase — spiritual sportswear. Church to gym. We found it kind of funny, but it's how our aunts and uncles dress. We just wanted to modernize it, make it simple and young." Until this season, Pyer Moss' women's clothes have always seemed less compelling than its men's stuff. So that's another stride forward for the multi-talented Jean-Raymond.
What hasn't changed since the '90s is that the search for new, authentic voices is still a fringe business. One suspects that what keeps obscure labels like Pyer Moss and two others who showed in Brooklyn yesterday, Eckhaus Latta and R13, afloat is a buoyant economy. It's a lot easier to have a discussion about race, identity, and gender in the context of dress when your customer base, however engaged, can afford to spend several hundred dollars (and usually more) for a garment.
The Eckhaus Latta show took place in a raw industrial building in Bushwick, accompanied by a group of small children pounding on plastic buckets and tambourines, led by Brian Chippendale, founder of the experimental noise group Lightning Bolt. With their Whitney exhibit still on view, Mike Eckhaus and Zoe Latta continue to expand upon their core themes, especially knitwear. The newest looks are cobweb knits that range from an elegant, mostly covered-up tank dress to a nearly naked filament-like top. I loved the almost rigid-looking trousers in off-white whose legs had been partially dyed in soda pink.
For all the seeming squareness and drabness of Eckhaus Latta's clothes — or perhaps because of it — they have an unmistakable sex appeal. And I don't mean just the transparent looks. I suppose that's because Latta and Eckhaus have a knack for making things seem self-confident and just a little bit weird, and at the same time plainly wearable and well-made. They're masters of the restrained detail that delivers a punch, like those pink-dipped pants or a turquoise dress print that looks like an abstract star or plane motif.
While the models snaked amid the guests seated in random groups across the empty factory floor, the kiddie drummers banged away — demanding to be heard. Afterward, Eckhaus said the idea was to create "a cacophony," of styles and moods. It's a sound that is obviously right for the times.
Chris Leba of R13 and the designers behind Monse (which showed on Friday in Manhattan), Laura Kim and Fernando Garcia, also had wonderful shows. Leba is an instigator of denim trends, and I loved the aggressive slash of his jean shorts, worn with long vintage-style surfer shirts, and the hybrid of a denim mini and pants. Fittingly, he showed the tough look with cowboy boots whose backs had been reduced to a single strap, or with grungy thick socks and sneakers. Montauk and surfing were the loose, well-handled themes.
Kim and Garcia also advanced their twisted takes on men's shirting, with some lovely one-shoulder summer shifts and a gorgeous oddball of a silk tunic in electric multihued stripes over black leggings. Newer was the designers' casual take on tweed, for jackets worn with wide-leg sailor jeans. Sailing was a nominal theme — hence oversize, striped sweaters inset with rows of pearls, and rope motifs.
Like other brands this week, the Monse pair showed their women's line on both sexes — mainly, they said, because menswear retailers have already been buying pieces for customers. Leaving the show, I overheard one guest say, "I loved the men's collection more."
Oh, well. It's surely a confusion that people can live with.