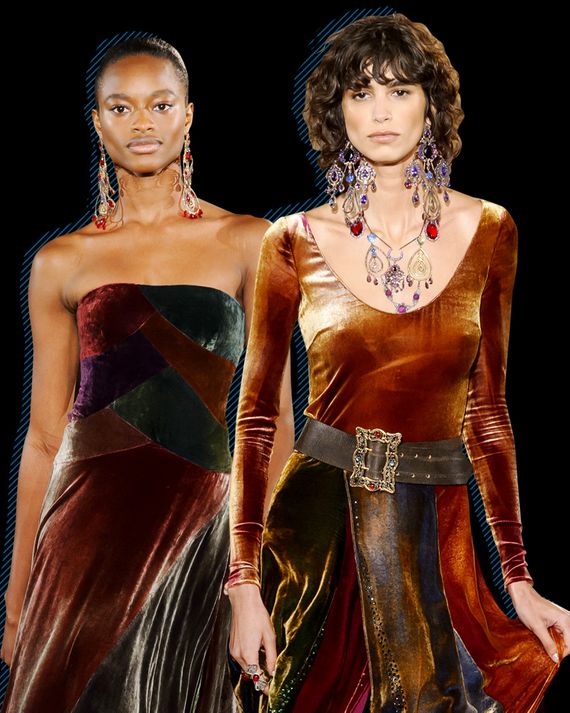 Photo: Photo: Imaxtree. Illustration: Lauren Tamaki
Luxury brands are hardly strangers to celebrity-filled blowouts. The fashion veteran's mind wanders to Dior's 60th anniversary party at Versailles in 2007 or, that same summer, Valentino's three-day celebration in Rome, where the guest list was like a condensed version of 30 years of W magazine. But Ralph Lauren's party last night in Central Park was truly one for the ages.
It was the 50th anniversary of his Polo label. "I was thinking maybe I wouldn't do anything for the 50th," said Lauren, who ten years ago staged a show and a dinner in the park. "Finally, I said we had better do it. I felt I had something to say about America."
Lauren, of course, has been saying things about America for much of his career, and with a cinematographer's eye for the stirring image, from the great West to the Adirondacks to the Gatsby-like fantasies. And how like Lauren to chose John Barry's epic score from Dances With Wolves for the finale and his walk down the runway, where guests from Oprah Winfrey and Hillary Clinton to Robert De Niro and Steven Spielberg were on their feet. Michael Kors, one of more than a dozen designers there, said, when asked to identify Lauren's key quality, "He's such an amazing storyteller. He has told everyone it's not just the clothes. It's the feeling, the mood, the spirit."
But I had the feeling that Lauren and his extraordinary team of designers and set masters really did have something to say about America at this crucial moment, and that it wasn't just bluster. The message was not overtly political — you wouldn't expect that from Lauren — but it felt political all the same.
To begin with, he staged the show (and the dinner that followed) at the Bethesda Terrace, a meeting place of New Yorkers and visitors since the mid-19th century. The casting was the most diversified of a Lauren show that I can recall, though I heard one editor complain there was no gay couple represented. Perhaps, but there was a wide range of other types, ages, and ethnic backgrounds; and some of the models were partners or family members of people who work for the company. And at a time when children have become the focus of political debate — whether immigration policy or school shootings — the presence of so many young people, including a sleeping infant on a man's shoulder, struck a nerve. To be sure, this was a fashion show — it's a world away from the horrific realities that innocent young people have faced in the last year. But I also don't think you can dismiss the numbers of kids as just a heart-tugging gesture, though it certainly was that.
Finally, there were the clothes that Lauren chose to mark his 50th. They were mostly from his sporty RL division, though I initially wondered if maybe he had selected some gems from the archive and remade them. Not so, I was told. But my God, they told a story — from a stubby men's coat done in a patchwork of plaid, to the prairie-style skirts now rendered in faded velvet, to the drab wool suits and flat caps that were once the uniform of the working man, to the silver shimmer of a beaded evening dress casually worn with a lumpy old gray sweater, the essence of American ease.
It's no wonder that people seemed sort of thunderstruck at the end, and that Lauren himself had tears in his eyes. It wasn't merely that he pulled in the big names, or that everything had been done with great care and attention to detail. It was also that he made you aware of history and place, as only a designer with a 50-year perspective can.