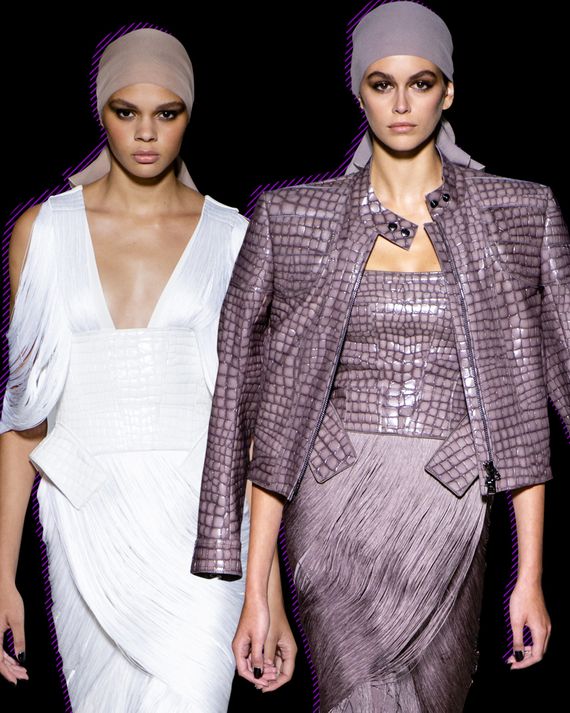 Photo: Imaxtree. Illustration: Lauren Tamaki
Tom Ford decided he'd prefer to have his cake and eat it too. Last night, he staged one of his mega shows at the Park Avenue Armory. There were paps outside and stars inside (Rita Wilson, Tom Hanks, Henry Golding from Crazy Rich Asians), and when the show was over, everyone streamed into a giant party room with a full bar and poster-size images of girls and guys with lipstick smeared over their mouths, as if fresh from an orgy. But Ford's spring clothes were relatively tame for him — highlighted by sharp jackets and lightly ruched skirts hemmed in lace — and, crucially, they looked easy to wear.
That hasn't always been the case. Ford's super-buffed shows for Gucci and later Yves Saint Laurent in the mid-'90s guaranteed that he would be perceived less as a fashion innovator than as a manipulator of glamour. Unquestionably, he created some now iconic looks, like his feathered hippie jeans and the claret red velvet pantsuit worn by Gwyneth Paltrow, both for Gucci, and the extreme peaked shoulder jackets that he did for YSL. But one went to a Ford show expecting to be assaulted by glamour worthy of the sleekest, fastest yacht, and then tossed back into the messy stream of humanity.
Ford's still got the stuff. That's in part why most guests last night arrived dressed to the gills, expecting to be seen or anointed or whatever. (It was also the start to a month of spring 2019 shows.) But there was an almost desperate-seeming trashiness about his last two performances at New York Fashion Week. Perhaps he realized this: "Fashion has gone so far," he said in the emptiness of the dressing area, where I caught up with him as he chatted with the actress Gina Gershon and the writer André Leon Talley. He meant that fashion has lost a grip on reality. "I wanted to remember why I wanted to be a designer in the first place."
This collection felt like an acknowledgment that maybe that all-you-can-eat quality of a big show ought to be tempered with something you can also effortlessly wear and enjoy. The key ingredients were the fantastic skirts — the slim, ruched variety with a narrow panel of lace at the hem, and the asymmetrical style that fluttered around the knees, in a uniform-like palette of black, lilac, white — which looked as if you could just pull them on and go. Shown with sharp blazers or Ford's beloved blouson-style jackets, over barely visible scalloped lace tops, the skirts were not merely a reprise of Gucci-era standard. They also offered a long-overdue interpretation of the feminine suit. I'm certainly not the typical client for Tom Ford's silhouette, but seeing those easy skirts and casual jackets with pushed-up sleeves made me want to have them. And isn't that fashion?