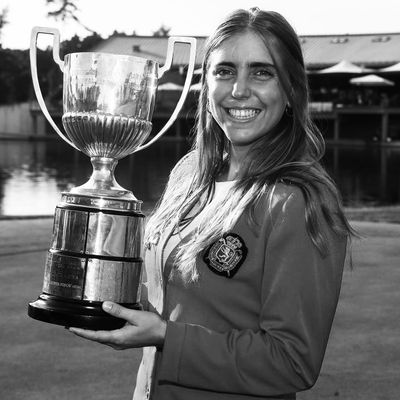 Celia Barquin Arozamena.
Photo: EGA HANDOUT/EPA-EFE/REX/Shutterstock
A few hours after they discovered the body of 22-year-old golf champion Celia Barquin Arozamena on a golf course in Ames, Iowa, police arrested Collin Daniel Richards, 22, and charged him with her murder. Richards lived in a temporary camp near the golf course where, according to police, he recently told a fellow resident he had an "urge to rape and kill a woman."
On Monday morning, officers were called to the Coldwater Links golf course when golfers said they came across a bag with no one around it. Police found Barquin Arozamena's body in a pond nearby, with "several stab wounds to the upper torso, head and neck," and determined that she had been assaulted.
Police dogs tracked the woman's scent to a temporary camp where they found Richards with "fresh scratches on his face consistent with fighting," ESPN reports. One acquaintance of Richards's told authorities about his alleged "urge to rape and kill a woman," and another said they noticed him come back to the camp on Monday looking "disheveled and covered in blood, sand and water." Richards appeared in court on Tuesday morning, and is currently being held on a $5 million cash bond.
Richards reportedly has a history of violence. Jefferson Police Chief Mark Clouse told ESPN that in 2015, authorities were called to the house where Richards lived with his grandparents three times for issues of domestic violence. In May of that year, he was arrested after getting in a fight with his girlfriend, putting her in a headlock, and dragging her outside.
Baroquin Arozamena, who was from Puente San Miguel, Spain, was the 2018 Big 12 champion and Iowa State Female Athlete of the Year, and was ranked No. 69 nationally by Golfweek. She was finishing a civil engineering degree at the university.
"This is a tragic and senseless loss of a talented young woman and an acclaimed student athlete," Iowa State University president Dr. Wendy Wintersteen said in a statement. "We mourn with her family and friends in Spain, her teammates here and all who knew her. On behalf of the entire Cyclone family, I extend our deep condolences to Celia's family and her many friends and teammates at Iowa State. We are deeply saddened."