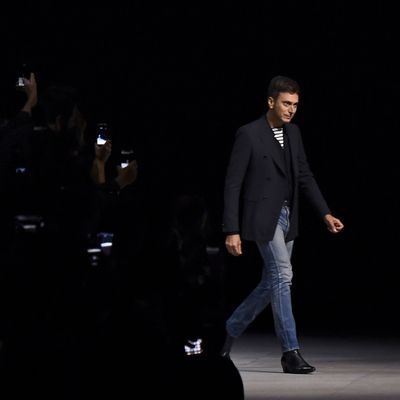 Hedi Slimane takes a bow after his spring 2019 Celine debut.
Photo: ANNE-CHRISTINE POUJOULAT/AFP/Getty Images
It's taken me three full days to figure out what, exactly, I want to say about Hedi Slimane's Celine. Three days of Slack messages, subtweets, Instagram DMs, phone calls, and text messages with people I know who care about fashion. This isn't normally how it goes. Or at least, it hasn't in awhile. I've changed my mind so many times. I've argued. A lot. I've gotten angry. In the end, though, the question I keep coming back to is: Why do I care so much? What did Hedi Slimane do to get us all so worked up? And what did we expect?
Celine's spring 2019 show started right where Slimane's last one at Saint Laurent left off. Only this time, it was at Les Invalides in Paris, the site of Napoleon's tomb. There, he showed 90-something variations on skinny black suits, baby-doll dresses, and biker boots — a far cry from former-designer Phoebe Philo's colorful, roomy silhouettes, and beloved furry Birkenstocks.
"You don't enter a fashion house to imitate the work of your predecessor," Slimane declared in a rare email interview with Le Figaro last week. You just have to be yourself, "against all odds."
So, here it is: the Hedi Slimane formula. If you didn't see it coming, then you haven't been paying attention to the designer since he claimed skinny suits as his signature at Dior Homme in 2001. And then again at Saint Laurent — only replace skinny suits with skinny jeans, and Parisian ennui with California blasé. He's the skinniest, most stubborn man working in fashion. He has a very specific idea of what's young and cool. And he is steadfast in his process: simplify, refine, rinse, repeat. That's what made him the big bucks before, and LVMH is betting that he'll do it again.
The themes and styling shown at Celine on Friday were certainly familiar, (retro, waifish youth, rock 'n' roll, disco, the party after), which is why it's easy to feel like you've been clocked in the head with a biker boot. But were the clothes — the way they were cut, and hung — actually the same, as so many have cried?
I'm not so sure. A handful of side-by-side comparisons definitely indicate 'yes' at first glance. Diet Prada nailed them all on Instagram — the only platform, one could argue, that really matters. But with Slimane, it's all about the details — about tailoring and proportions, codes and signatures — and I think if you look closely, you will find that these are not all carbon copies in attitude or fit. And if they were, they were more polished this time around.
Saint Laurent fall 2016 closed with a furry, heart-shaped red coat, which you might recall from Rihanna's Instagram. And Celine spring 2019 opened with a dress of a similar shape, only a bow instead of a heart. But these looks are not the same. To use Slimanian terms, one is like a trashy pop song, and the other more sober and serious. It's what you listen to on the way home.
As for those skinny suits, boy were they sharp. Their tailoring had a preciseness that we haven't seen on most other runways; so much that you might be able to pull his simple-seeming trench coat or leather jacket out from a lineup. At Saint Laurent, the cut was more casual, and the shoulders less angular. There certainly were no playful Mickey Mouse-ear bolero jackets, which Slimane showed on Friday. And at Dior, his suit pants hung lower from the waist and straight across, as opposed to the almost a pear-shape he somehow created for his Celine waifs. Over all, there was a dressy-ness to this most recent collection that felt like the next chapter of Saint Laurent, not its beginning.
The way Hedi Slimane designs requires us to review him on these terms. But even if he is all about the c-l-o-t-h-e-s, as a diehard fan would tell you with drool in their mouth, fashion is just as much about the big picture today as it is the details. Customers, especially young ones, want nice, cool-looking products, but they also want Celine to stand for something beyond style. They want ideas — and new ones, too. This is where Slimane fell short.
For starters, 90 percent of the models — all of whom had a specific tall, skinny body type — were white. To me, that exemplified a privileged sort of stubbornness. At a time when young people aren't just asking for inclusiveness, they're SHOUTING for it, the casting felt exclusionary in a way that was intentional. Aggressive, even, which is why I think so many people pushed back. Yes, a lot of designers have a long way to go when it comes to size and ethnic diversity, and casting models who are age-appropriate. Phoebe Philo wasn't always so great at it. But Slimane was in a unique position of power on Friday. He had a clean slate and an enormous, billion-dollar platform at his disposal. And he used that opportunity to offer some slightly different tailoring?
I don't expect fashion designers to give me what I want. Honestly, that sounds boring. But I do expect them to read the room, because how else are you going to reflect the times? I know Hedi Slimane is not stupid. In fact, I know a lot of people who would call him a genius. I know he is a master of branding, and can convince a generation of T-shirt wearing sneakerheads to buy a well-tailored suit again. I know that he's one of the only designers capable of sustaining a conversation about skinny jeans for more than however long a runway show lasts. And I know that a lot of his customers, of which there will be many, are meeting him for the first time. I am.
But I also know that fashion is political, even when it doesn't care to be. And I know that whenever I get déjà vu, I feel old. Not young.